Print me
Introduction
This is a Rolls-Royce of a dish. Poppy seed and mustard seem to dive straight into the endorphins. I implore you to please master ground white poppy seeds, as they are one of those Indian kitchen secrets that will change your world. Grind them and they will keep in a jar for weeks. Do make play of the spice formula in this recipe – try it with green beans, courgettes and potato and let the scales fall from your eyes.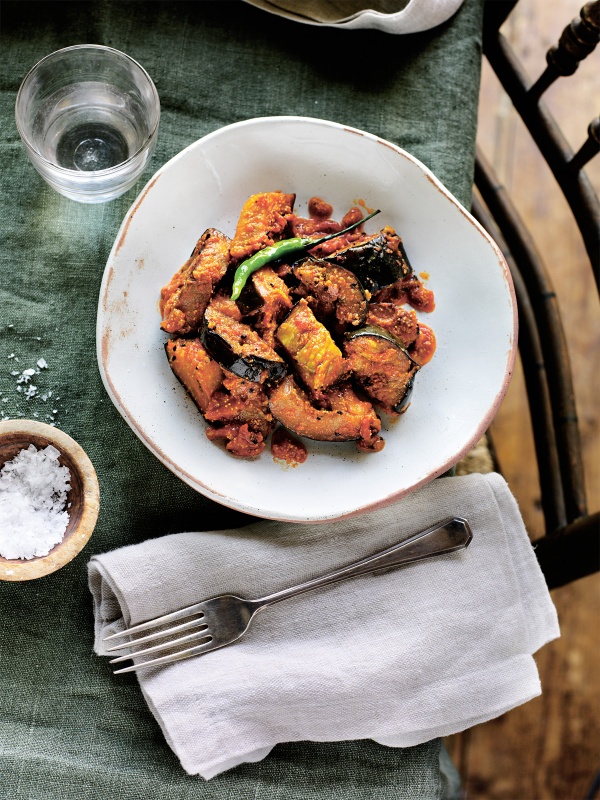 3½ x 15ml tablespoons vegetable oil
1 teaspoon nigella seeds
1 large green chilli (pierced)
2 large aubergines (sliced into quarters then 2.5cm slices)
¼ teaspoon ground turmeric
⅛ teaspoon chilli powder
1 teaspoon salt
1 teaspoon sugar
5 x 15ml tablespoons white poppy seeds (crushed in a pestle and mortar or blender)
250 grams tinned chopped tomatoes
1 teaspoon English mustard paste (loosened with a little water)
Method
Aubergine with Nigella and Poppy Seed is a guest recipe by Nisha Katona so we are not able to answer questions regarding this recipe
Put the vegetable oil in a large non-stick frying pan set over a medium-high heat. When hot, add the nigella seeds and fry until they start to crackle, then add the green chilli and aubergine slices and, turning the heat down to low, partially cover and cook for 15–20 minutes or until the aubergine is golden brown and tender. Toss to make sure the aubergine are evenly fried.
Stir in the ground turmeric, chilli powder, salt, sugar, white poppy seeds and the chopped tomatoes and fry for a further 8–10 minutes until the oil has started to split out of the tomatoes. Finish by stirring through the mustard paste.
Other recipes you might like