Print me
Introduction
Onion rings are a classic in our home and we make them all the time. They're always so popular that people would eat them all before we had a chance to put them on the table and we'd have to quickly cook up some more. The key to success is simple – have the oil nice and hot.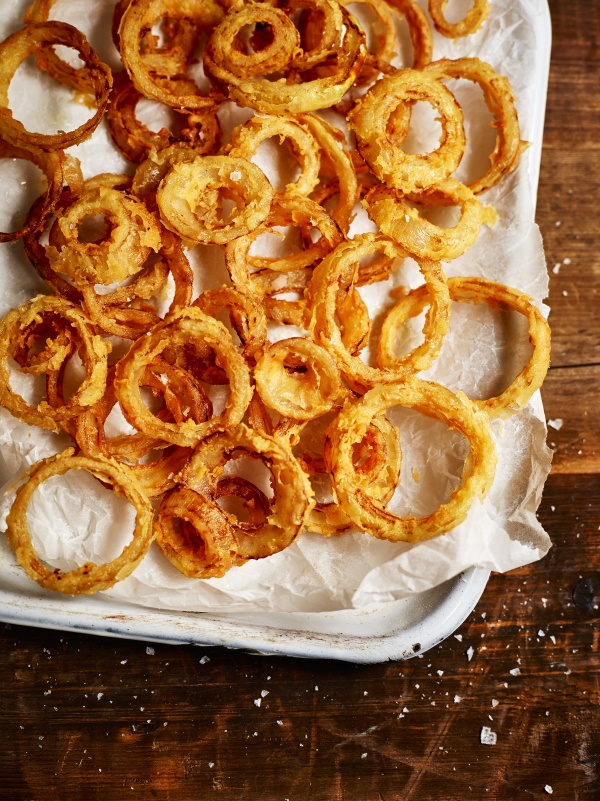 vegetable oil
3 large onions (peeled)
250 millilitres full fat milk
100 grams plain flour
salt
black pepper
Please note that nigella.com is not able to accept responsibility for any substitutions that Ocado may need to make as a result of stock availability or otherwise. For any queries, head to ocado.com/customercare.
Feel free to use the "swap" feature and adjust brands and quantities as needed.
Method
Onion Rings is a guest recipe by Shally Tucker so we are not able to answer questions regarding this recipe
Take a large saucepan and fill it about one-third full with vegetable oil. Heat the oil to 180°C, or until a breadcrumb dropped into the oil burns brown in 30 seconds. Always take great care around a pan of hot oil and never leave it unattended for a second.
Slice the onions into rounds about 0.5–1cm thick, then push all the layers out of each sliced ring to make lots of individual rings. Put these in a bowl and add the milk. Put the flour on a shallow plate and season it with salt and pepper, then remove some rings from the milk and toss them in the flour until coated.
Line a large plate with kitchen towel. Once the oil is hot enough, add a handful of rings – don't add too many, as they will just stick together and won't crisp up properly. Fry the onion rings for a couple of minutes, turning them once, until they're golden brown and crisp. Remove them with a slotted spoon and put them on the prepared plate.
Allow the oil to come back up to temperature before frying the rest of the onion rings in batches. Sprinkle them with sea salt and eat them immediately while they're beautifully crisp and hot.
Other recipes you might like