Print me
Introduction
No one would be disappointed with a big bowl of raspberries or strawberries, a jug of cream and a bowl of sugar. But this meringue is spectacular and very easy — a pavlova flavoured with toasted hazelnuts and filled with cream rippled with raspberries. I got the idea from Jeremy Lee, the chef proprietor of Quo Vadis restaurant, who makes a similar meringue but with almonds and whom I am not alone in considering the king of puddings. The addition of the nuts makes the meringue twice as nice, in my view, but obviously if you are serving to anyone who can't eat nuts, you can just leave them out and it's still a thing of splendour.
The meringue itself can be made ahead of time (even 1-2 days ahead), and then all you have to do is whip the cream and assemble it with the fruit.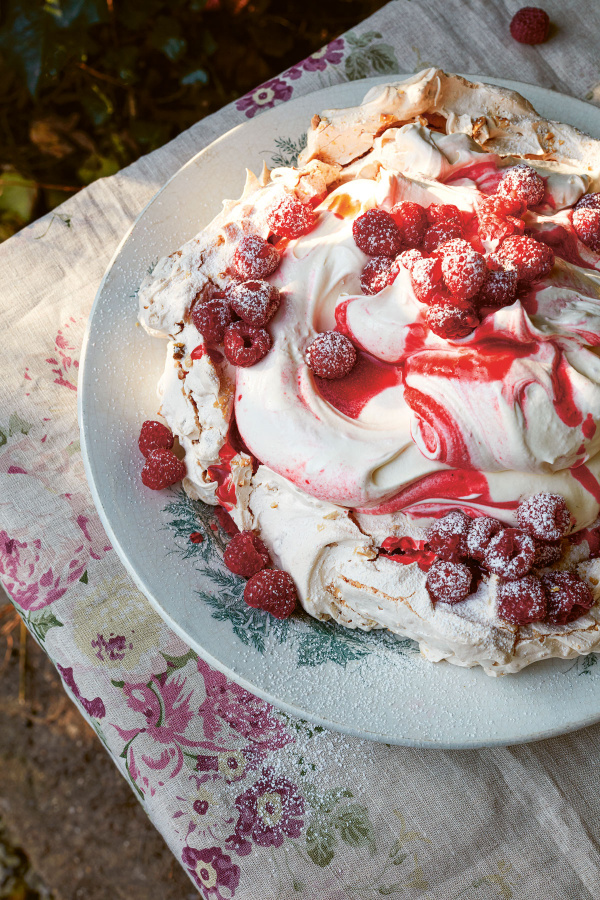 120 grams blanched hazelnuts
5 egg whites (save the yolks to make pasta or custard)
¼ teaspoon cream of tartar (optional, but helps the egg white to hold its shape)
275 grams caster sugar or granulated sugar
400 grams raspberries (washed)
icing sugar
400 millilitres double cream
Please note that nigella.com is not able to accept responsibility for any substitutions that Ocado may need to make as a result of stock availability or otherwise. For any queries, head to ocado.com/customercare.
Feel free to use the "swap" feature and adjust brands and quantities as needed.
Method
Raspberry Ripple Hazelnut Meringue is a guest recipe by Bee Wilson so we are not able to answer questions regarding this recipe
Line a large baking tray with baking parchment. Heat the oven to 170°C fan. Scatter the hazelnuts on the baking tray and roast in the oven until their colour is just starting to deepen and they smell wonderful (about 10 minutes). Tip them into a food processor and grind them very coarsely (there should still be some big pieces). If you don't have a food processor, chop them by hand.
Using an electric whisk, beat the egg whites with the cream of tartar in a large, clean mixing bowl until they are stiff and very white. Slowly add the sugar and continue to beat until glossy. Fold in most of the ground nuts, keeping back a large handful, using a large spatula or metal spoon. Tip the meringue on to the lined tray and spread it out to make a rough circle shape of approximately 24cm. Scatter the remaining hazelnuts on top. Bake the meringue for 20 minutes, then reduce the oven temperature to 120°C fan and bake for another 40 minutes. It should look a divine pale biscuity-brown: the colour of a fawn whippet. Leave it to cool out of the oven.
While the meringue is baking, take 125g of raspberries and press them through a sieve to make a puree. Mix this with 3 tablespoons of icing sugar to sweeten. Whip the cream with 1 tablespoon of icing sugar until it reaches soft peaks. Swirl half the raspberry puree into the cream to make a ripple. Dollop the cream over the meringue, followed by the rest of the whole raspberries. Drizzle the remaining sweet raspberry puree over the top and dust with icing sugar. At this point, according to Jeremy Lee, the cook should "take a bow".
Other recipes you might like