Print me
Introduction
One of my very favourite lunch spots in Japan was a little fast food shop called Pepper Lunch. Pepper Lunch is a chain, with over 200 branches in Japan and even more outside Japan. It's not exactly the pinnacle of Japanese gastronomy, and my Japanese colleagues teased me for liking it so much, but damn, did they do some good pepper steak. It was cheap – suspiciously so – but it was always cooked perfectly and it was also really good beef, highly marbled and incredibly tender. Of course, the seasonings were so tasty (lots of pepper, lots of garlic, lots of soy sauce) that you probably could have cooked an old shoe in them and it would have tasted reasonably good. So this is my loving homage to Pepper Lunch.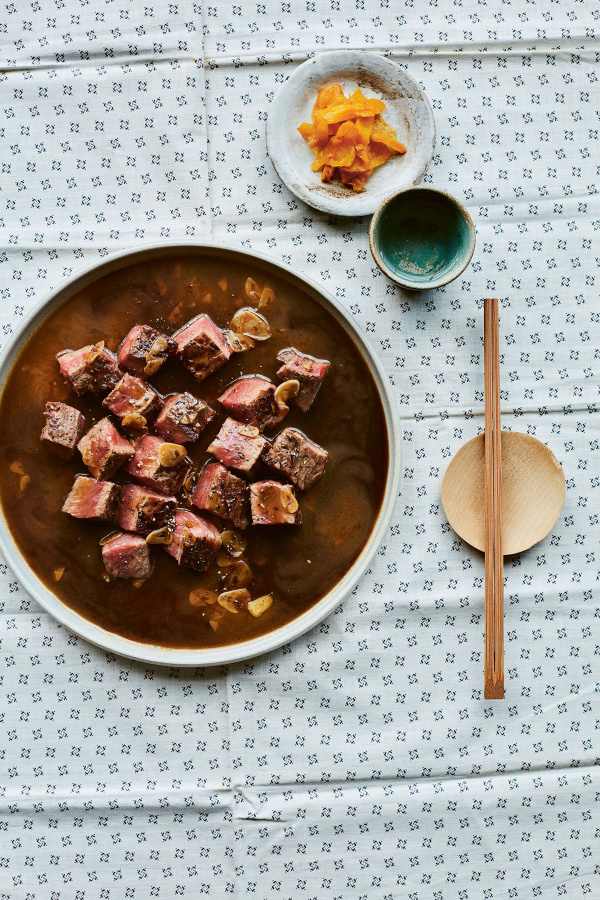 1 tablespoon oil
1 ribeye steak 300-400g (10½ - 14 oz) and ideally at least 2.5 cm (1 in) thick, patted dry with paper towels
A very generous amount of coarse ground black pepper
4 tablespoons water
2 tablespoons soy sauce
1 tablespoon sake
1 tablespoon honey
20 grams (¾ oz) butter
3 garlic cloves (thinly sliced)
Please note that nigella.com is not able to accept responsibility for any substitutions that Ocado may need to make as a result of stock availability or otherwise. For any queries, head to ocado.com/customercare.
Feel free to use the "swap" feature and adjust brands and quantities as needed.
Method
Pepper Steak with Garlic Soy Sauce Butter is a guest recipe by Tim Anderson so we are not able to answer questions regarding this recipe
Set a frying pan (skillet) over high heat and add the oil. Season the steak all over with the pepper.
When the oil is smoking hot, lay the steak in the pan and cook it on one side until nicely browned, about 2–3 minutes. Turn and brown the other side, again for about 2 minutes. By this point the steak should be rare; keep cooking for a further 2 minutes for medium-rare and another 2 minutes after that for medium, flipping the steak every 20 seconds to form an even crust and cuisson.
When the steak is cooked to your liking, remove it from the pan and leave to rest on a chopping board.
Remove the pan from the heat and add the water, then set the pan back over the heat and add the soy sauce, sake, honey, butter and garlic. Simmer for 4–5 minutes until the liquid reduces slightly and the garlic infuses into the gravy, then remove from the heat.
Slice the steak into bite-size cubes, about 2 cm (¾ in) wide, and toss through the pan sauce.
Additional Information
TIP:
Use your senses and intuition cooking steak or, better yet, a probe thermometer, to gauge the steak's doneness. And remember: if you're not sure how cooked it is, err on the side of rare. You can always cook it more. If you're using a cut other than ribeye, slice the steak across the grain as you usually would; otherwise, the meat will be too tough and chewy.
Other recipes you might like