More recipes
Recipe search
Sweet Potato Spoonbread
A community recipe by

aforkandapencil

Not tested or verified by Nigella.com
Print me
Introduction
Delicious served traditionally alongside grilled or barbecued meats, though I have to tell you that it also often appears as a brunch dish in my kitchen, and by brunch I mean "late, lazy weekend breakfast". On those occasions, the grilled meat is bacon and the condiment is maple syrup – all the fun of pancakes without the pancake-making.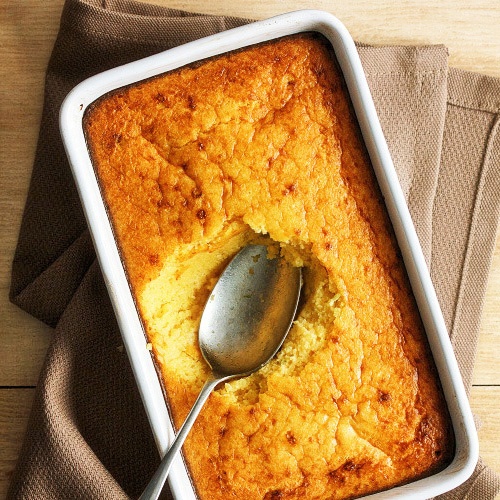 25 grams unsalted butter
125 grams sweet potatoes
50 grams Cheddar cheese
1 large spring onion
1 egg
85 grams polenta
1 teaspoon baking powder
1 teaspoon sea salt
1 teaspoon nutmeg
250 millilitres milk
Method
Sweet Potato Spoonbread is a community recipe submitted by aforkandapencil and has not been tested by Nigella.com so we are not able to answer questions regarding this recipe.
To cook the sweet potato, roast a single unpeeled chunk pricked all over with a fork in a 200°C oven for an hour, or microwave peeled chunks on full power for 10 minutes. Which ever way you choose, scoop out and mash ½ cup of the flesh and set aside.
To make the spoonbread, set your oven to 220°C and butter a small baking dish that can hold 2 cups. Melt the butter in a small saucepan or the microwave and set aside to cool a little.
Chop the cheese and spring onion into rough chunks and place in the bowl of a food processor. Add the sweet potato and egg and blitz until finely chopped.
Add the polenta, baking powder, salt and nutmeg. Pulse until well combined.
Add the milk and melted butter – through the funnel with the motor running, if your processor allows that – and mix well.
Pour the mixture into your prepared baking dish and bake for 25 minutes until risen slightly, set on top and lightly coloured. Remove from the oven and let it sit for 10 minutes, setting further, before serving.
Other recipes you might like