Print me
Introduction
Like most family recipes I have no idea where this ultimately originated from, but I got it from my Aunty Plug and I think she got it from her cousin. The recipe is exactly as she gave it to me, but I rarely follow it to the letter. The amounts given here give a vast amount. Even a half amount fills the two large Kilner jars in the photo and a quarter is enough for a batch of 24 small pies. It's also worth noting the mincemeat is vegan and gluten free.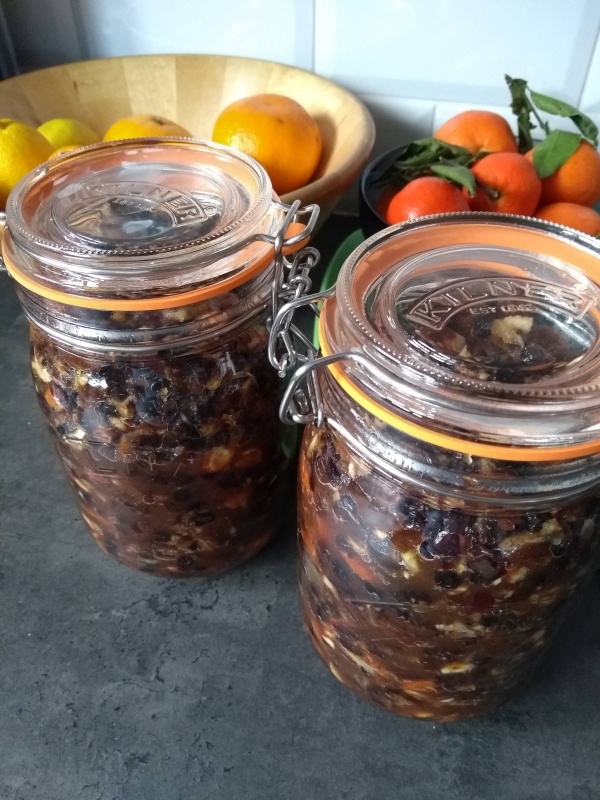 Ingredients
Makes: 4 x large Kilner Jars (see photo)
2 pounds apples grated
2 pounds raisins
2 pounds currants
1 pound golden raisins
1½ pounds grapes
3 lemons (juice and rind)
½ pound almonds
2 pounds sugar
brandy (optional)
pumpkin pie spice (optional)
nutmeg (optional)
Please note that nigella.com is not able to accept responsibility for any substitutions that Ocado may need to make as a result of stock availability or otherwise. For any queries, head to ocado.com/customercare.
Feel free to use the "swap" feature and adjust brands and quantities as needed.
Method
Aunty Plug's Mincemeat is a community recipe submitted by Bevis and has not been tested by Nigella.com so we are not able to answer questions regarding this recipe.
In a very large bowl or pan mix the sugar (golden caster sugar, light brown sugar or a mix of both) with the grated apple. A sharp, strong flavoured apple like cox or braeburn is best. Don't bother to peel the apples before grating them.
Add the zest and juice of the lemons. Invariably I use a mix of citrus fruit - lemon, lime, orange, satsuma - depending on what I have to hand and what takes my fancy.
In the food processor roughly chop the grapes (black, red, green or a combination of colours as long as they're seedless). Don't chop them too small, but you don't want half grapes left in the mix either. Add to the bowl.
In the processor roughly chop the dried fruit (you may need to do this in several batches if you're doing the full amount) so the larger fruit are roughly the same size as the currants. Add to the bowl.
In the processor roughly chop the almonds. As with the grapes you want some small pieces and some larger, but nothing bigger than a half almond. Use blanched if you want, but raw unpeeled looks and tastes better to my mind. Add to the bowl
Add the optional ingredients - pumpkin pie spice, fresh grated nutmeg and a gill of brandy, rum or gin. I personally never add the alcohol and there's not enough to make any difference to how long the mincemeat will keep so it's purely a personal choice
All the amounts given in this recipe are advisory at best. I tend to make half amounts, but that means the dried fruit ends up a bit more because they tend to come in bags marginally bigger than you need. You may need more citrus juice, or less. Apples will never be the right weight so guesstimate it. It's not a recipe where you have to worry unduly about the fine details.
If you're using the mincemeat pretty much straight away leave it to sit for at least a few hours, but preferably overnight with the bowl tightly covered in clingfilm, and then use within a couple of days. If you want to keep it for a bit longer decant into sterile jars and use within a couple of weeks, but do keep an eye on it. This is not a full preserve so even in sealed jars into won't keep as long as jam or chutney. I personally recommend Nigella's pastry from the Star-Topped Mince Pies in Nigella Christmas, but obviously this will mean the mince pies aren't vegan if this is a concern.
Other recipes you might like