Print me
Introduction
A vegan adjustment here and there and a vegan bakewell tart is possible. I use shop bought shortcrust pastry (pleasingly non-dairy) as my own vegan efforts, no matter how carefully I chilled the mixture and how lightly I rubbed the fat into the flour, came out tough. If you want to make your own vegan pastry it's easy, half fat to flour, fat can be all vegan margarine or half white vegetable fat and half margarine.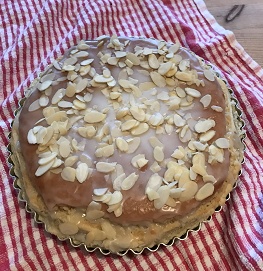 175 grams shortcrust pastry
2 tablespoons jam of your choice
200 grams self-raising flour sieved
1 teaspoon baking powder sieved
200 grams caster sugar
50 grams ground almonds
1 drop almond essence
200 millilitres soya milk
80 millilitres vegetable oil
50 grams icing sugar sieved
50 grams flaked almonds
50 grams glace cherries optional
Please note that nigella.com is not able to accept responsibility for any substitutions that Ocado may need to make as a result of stock availability or otherwise. For any queries, head to ocado.com/customercare.
Feel free to use the "swap" feature and adjust brands and quantities as needed.
Method
Bakewell tart is a community recipe submitted by Cookie891 and has not been tested by Nigella.com so we are not able to answer questions regarding this recipe.
Set the oven to gas mark 5/200C/400F and put into heat a baking tray on the middle shelf which will accommodate your tart tin.
Roll out your pastry as thinly as you can and line a 26cm tart tin (about 4-6cm deep) - I use a loose bottomed tin as it's easier to unmould.
Prick pastry base a few times with a fork and chill for 20 minutes.
Line pastry with your choice of baking paper or foil, plus baking beans etc. to weigh the lining down.

Slide the tart tin onto the heated baking tray and bake for 15 minutes. Then remove the beans and paper and bake for another 10 minutes until lightly golden and almost baked. Leave on the baking tin for now. Reduce oven to gas mark 4/180F/350C.

In a large bowl, sieve the flour and baking powder and stir in the ground almonds and sugar with a pinch of fine salt.
In a jug, beat the milk, oil and almond essence until well mixed. Add to the flour mixture and stir well but do not over beat.
Spread onto the slightly cooled pastry case jam of your choice and quickly pour in the cake mixture. Spread evenly and place back in the oven until a cocktail stick comes out clean (about 30 minutes). Reduce oven temp accordingly if top is getting too brown.
When cooked, remove from oven onto a rack and leave to cool. Mix icing sugar with enough water to make a semi thick glaze and spread evenly over the tart. Sprinkle over flaked almonds and press in glace cherries (if using). Slice and enjoy.
Other recipes you might like