More recipes
Recipe search
Bengali Bolognese (with lamb mince or Quorn mince)
A community recipe by

abdulmismail

Not tested or verified by Nigella.com
Print me
Introduction
When I travel, I tend to always enjoy experiencing local cuisine yet, upon my return, I prefer to put my own twist on various recipes. Some dishes remain true to their original style but on some occasions, I'll come up with up with a fusion dish like this.
Vegetarians can use Quorn mince as opposed to lamb mince but Vegans will have to use a different product as Quorn mince I believe has egg in it. The latter will also need to avoid egg pasta and replace ghee with extra virgin olive oil.
The image shown is with Quorn mince.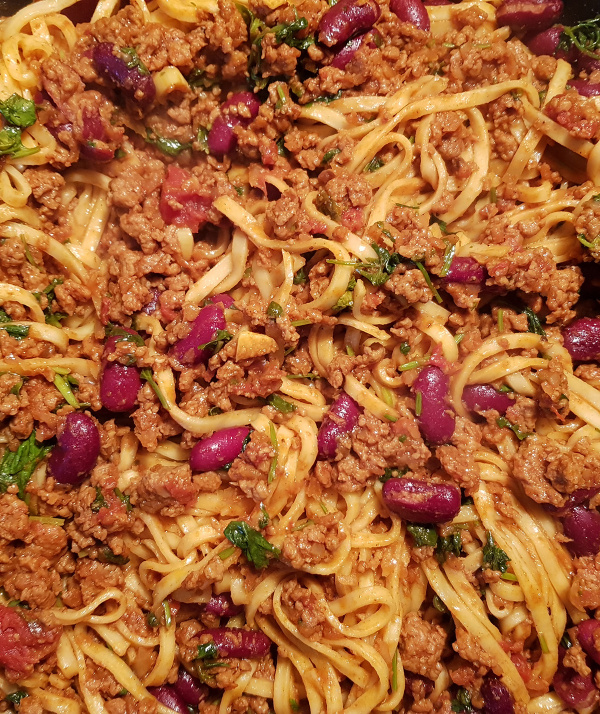 1 kilogram minced lamb (or Quorn/vegan alternative)
1 large onion (diced)
4 fresh green chillies (cut off stalk then sear, once)
5 cloves garlic (finely sliced)
5 centimetres ginger (chopped)
4 cinnamon sticks
6 green cardamom (press against table top to snap and open)
5 bay leaves
6 cloves
1 tin plum tomatoes
1 tin kidney beans
4 heaped tablespoons ghee (clarified butter) or extra virgin olive oil, for vegans/vegetarians
1½ teaspoons salt
1¼ teaspoons ground turmeric
1 teaspoon ground cumin
2 teaspoons paprika
1 teaspoon garam masala
¾ teaspoon ground coriander
½ teaspoon black pepper
1 teaspoon chilli powder
1 teaspoon madras curry powder
1 teaspoon fenugreek leaves (crushed)
½ bunch fresh coriander diced (after rinsing)
Please note that nigella.com is not able to accept responsibility for any substitutions that Ocado may need to make as a result of stock availability or otherwise. For any queries, head to ocado.com/customercare.
Feel free to use the "swap" feature and adjust brands and quantities as needed.
Method
Bengali Bolognese (with lamb mince or Quorn mince) is a community recipe submitted by abdulmismail and has not been tested by Nigella.com so we are not able to answer questions regarding this recipe.
Place all the spices into a small ramekin or side plate.
Place the onions, ginger, garlic and green chillies into a small ramekin or side plate.
Place the cinnamon, cloves, bay leaves and fenugreek/dry basil into a small ramekin or side plate.
Rinse and allow the mince to drain (not required for Quorn mince).
Preheat a cooking pan and pour in the extra virgin olive oil or Ghee.
Add the salt and onions, ginger, garlic and green chillies.
Continue to cook on high heat, stirring regularly then add the cardamoms, cinnamon, cloves, bay leaves and fenugreek/dry basil.
Remove the pan from the heat and tilt the pan so that the oil separates from the other ingredients. Push the ingredients aside, if required.
Add and mix the spices into the oil until it makes a paste and then replace pan on high heat.
Fold oil/spice mixture into the onions and garlic etc.
Allow to simmer for about 20 seconds while continually stirring and then add ½ cup of water so the spices don't burn, more if required but don't add too much water as you want to create a "bhuna".
Cook on high heat for a couple of minutes while continuing to stir.
Add the tinned tomatoes into the mixture and cook on high heat for about 5 minutes. If the tomatoes are not chopped and are plum tomatoes in the time, you'll want to squash the tomatoes so all the tomato juice comes out.
Add the mince and fold the sauce into the meat.
Cook on high heat for about 10 minutes, stirring regularly.
Add the kidney beans to the Bolognese sauce then reduce the heat.
Allow to simmer for 40 minutes.
Meanwhile prepare the pasta, noodles or rice.
Turn off the heat and optionally, remove cardamoms, cinnamon, cloves and bay leaves.
Add the fresh, chopped coriander.
Additional Information
For egg pasta, instead of cooking for 4 minutes, cook for 3 minutes, then add the Bolognese sauce and allow to cook for an extra minute or two. For dry pasta, cook for 2 minutes less than instructions and then cook for 3 to 4 minutes once adding the Bolognese sauce. I tend to use Penne (shown in this photo) or Rigatoni as the "tunnels" hold in more of the Bolognese sauce
The cinnamon sticks, bay leaves, cloves and cardamoms are very important ingredients but can leave a sour taste if chewed. So, it would be advisable to sift through the dish once it has cooled down and remove those ingredients before adding the fresh coriander. One idea would be to place these items in a strainer and then remove the strainer after cooking.
I prefer to use lean lamb and not beef. I've also tried this with Quorn mince and it's not bad at all. Vegans, please note that Quorn mince has egg in it and thus, it's not Vegan.
Other recipes you might like