More recipes
Recipe search
Biscotti arrotolati - Rolled biscuits
A community recipe by

SofiaGallo

Not tested or verified by Nigella.com
Print me
Introduction
Humble ingredients that make delicious treats. A traditional Italian recipe that has been with me since I can remember.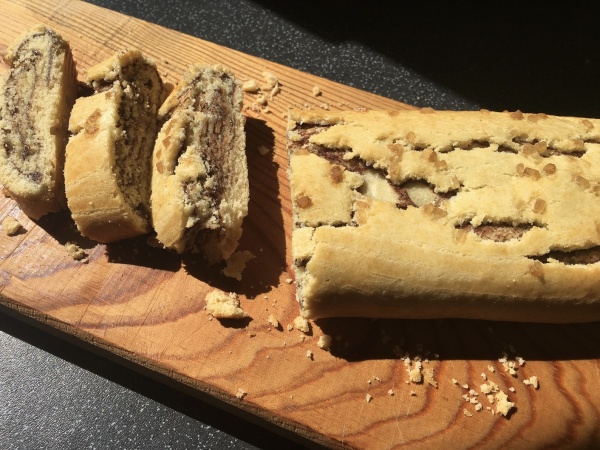 250 g plain flour (sieved)
80 g icing sugar (sieved)
120 g unsalted butter (softened)
1 teaspoon baking powder
1 egg
2 spoonfuls of jam or chocolate spread of your choice
milk to wash the dough before baking
Method
Biscotti arrotolati - Rolled biscuits is a community recipe submitted by SofiaGallo and has not been tested by Nigella.com so we are not able to answer questions regarding this recipe.
Sieve the flour, baking powder and icing sugar into a large bowl.
Add the cold butter cut into pieces and rub with the dry ingredients until it reaches sand like consistency.
When the butter is well incorporated, add the egg lightly beaten and start mixing by hand until dough consistency. (Don't be tempted to add any liquid because the mixture will combine into a nice smooth dough). Once this is formed, cover with cling film and let rest in the fridge for about an hour.
When it's time, roll the dough between two sheets of parchment paper to a 5p coin thickness. If you choose to use two different fillings, divide the dough into equal parts.
Spread the filling to the edges of the rolled out pastry and start rolling the dough on itself. Wash the dough with milk and sprinkle with some sugar crystals or granulated sugar.
Bake for about 25 minutes in Gas oven mark 4 - or electric 180 degrees C.
Other recipes you might like