More recipes
Recipe search
Rack of Lamb With Rosemary and Red Currant Sauce
A community recipe by

burnt fingers

Not tested or verified by Nigella.com
Print me
Introduction
Nice dish if one likes Lamb!
For the Lamb
1 rack of lamb (English or Welsh spring lamb, about 8 chops)
1 tablespoon fresh orange juice
1 tablespoon wholegrain mustard
breadcrumbs
finely chopped fresh parsley
For the Sauce
8 ounces red currants
4 ounces dry white wine
2 tablespoons honey
2 tablespoons mango juice (concentrate)
2 tablespoons orange juice (concentrate)
2 ounces chicken broth
2 whole cloves
fresh rosemary (stems, a small quantity)
Method
Rack of Lamb With Rosemary and Red Currant Sauce is a community recipe submitted by burnt fingers and has not been tested by Nigella.com so we are not able to answer questions regarding this recipe.
Preheat oven to 200ºC, 400ºf.
Mix the mustard and orange juice, then mix the breadcrumbs and parsley, add the mustard sauce. Spread over top of the rack of lamb.
Roast the rack for 10-15 minutes for a rare to medium rare. Remove from oven, cover with foil, and allow to stand for five or so minutes.
Meanwhile, simmer all sauce ingredients in a saucepan for 15 minutes. Remove cloves, rosemary, and press the sauce through a sieve. Simmer this to reduce to a thick sauce.â€
Spoon a little on each plate and top with the chops. These are easily separated by carving between the ribs. Garnish with a sprigs of fresh rosemary.
Serve with Jersey 'royals' new potatoes, petit pois, and broccoli spears or asparagus. Also, serve with a Pinot Noir or top red Burgundy, a good Bordeaux. Do not spend all this money on a delicious piece of meat and pair it with a 'cheaply' inexpensive wine. †This can be prepared in advance and heated in the microwave.
Other recipes you might like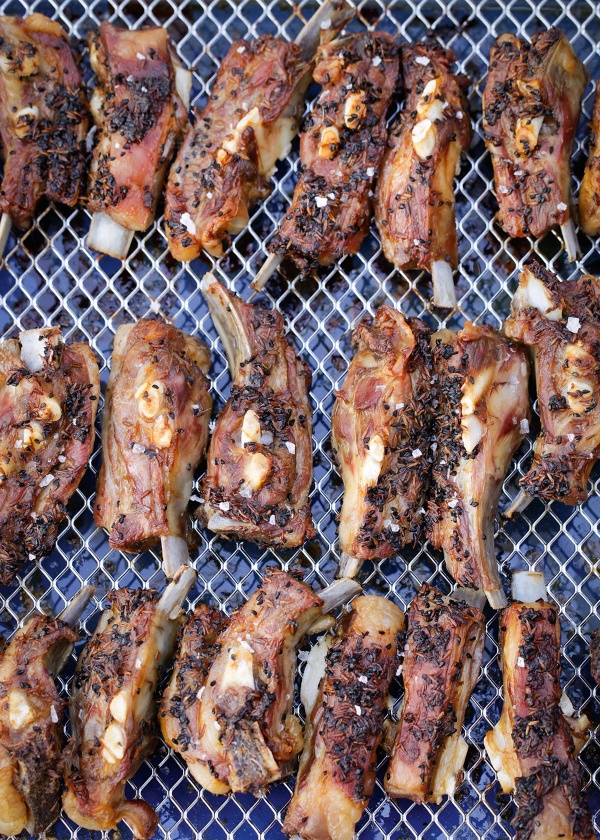 Lamb Ribs With Nigella and Cumin Seeds