Print me
Introduction
Typically home-cooked Bengali/Bangladeshi food is made with relatively light spices but my Chicken Bhuna, one of my go-to dishes, is cooked with an extremely rich combination of spices. The introduction of potatoes later on alleviates the 'hit' from the spices without the need to water down the dish.
The dish can be served with either basmati rice or naan bread.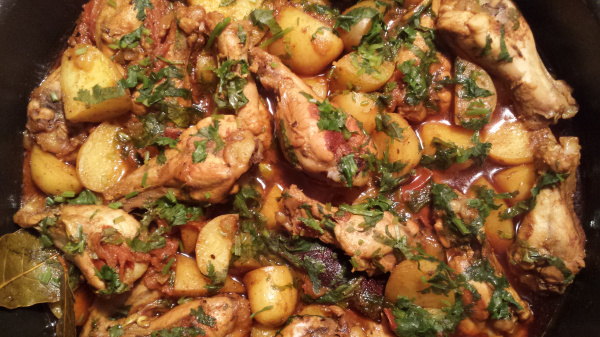 1 kilogram chicken wings lean
1 large onion (chopped)
6 garlic (cloves sliced)
6 centimetres ginger (diced)
3 cinnamon sticks
6 whole cloves
5 cardamom pods
4 large bay leaves
1 tin chopped tomatoes
4 green chillies (seared whole not diced)
5 heaped tablespoons ghee (clarified butter)
1½ teaspoons salt
1 teaspoon chilli powder
1½ teaspoons ground turmeric
1 teaspoon ground cumin
¾ teaspoon ground coriander
1½ teaspoons paprika
1 teaspoon dried basil
6 sticks fresh coriander (rinsed and chopped)
½ kilogram baby potatoes (cut in half)
Please note that nigella.com is not able to accept responsibility for any substitutions that Ocado may need to make as a result of stock availability or otherwise. For any queries, head to ocado.com/customercare.
Feel free to use the "swap" feature and adjust brands and quantities as needed.
Method
Chicken Bhuna is a community recipe submitted by abdulmismail and has not been tested by Nigella.com so we are not able to answer questions regarding this recipe.
Heat the oil or ghee in a large frying pan.
Add the onions and fry until slightly brown.
Add the garlic, ginger, green chillies and salt then after a couple of minutes.
Add the cinnamon sticks, bay leaves, cardamoms and cloves and continue to stir on high heat for a couple more minutes.
Reduce heat, then tilt the pan and allow the oil/ghee to separate from the other ingredients.
Add all spices to the oil/ghee (it's best to measure all the spices and place them all on one small bowl in advance) then mix in the spices before returning pan to heat and fold in spice/oil mixture with onions, garlic, chillies etc. • An alternative to cooking spices in oil is to add the spices to the oil, make a paste and then massage it into the meat; cover the bowl with cling film and then leave overnight in a fridge to marinate. Add one tablespoon of Cornflour if you wish to increase tenderness.
The spice mixture will look very dry and will want to stick on the pan. To avoid this, add ½ a cup of water but no more otherwise the spices will be watered down. Increase to high heat for a couple of minutes, stirring to ensure all spice powder is thoroughly mixed.
Add the tin of tomatoes into the spices and continue to stir on high heat for about 5 minutes.
Drain the water from the chicken and add to the pan. Cook on high heat for five minutes. Continue occasional stirring to ensure the spices don't stick to the pan.
Reduce the heat to a simmer, place the lid on the pan and cook for thirty to forty minutes.
See NOTES, below, if you wish to add potatoes (or other vegetables).
Rinse the fresh coriander under cold water, fold then squeeze until some stalks crack to release the incredible scent. Sprinkle the fresh, chopped coriander over the dish prior to serving.
NOTES: • "Bhuna" implies rich in spices and is a dish that is not watered down by adding extra ingredients (vegetables etc.) which tend to soak up the spices and draw the flavour away from meat. Of course, for those who cannot handle rich spicy foods, adding potato wedges or other vegetables can be desirable. That said, adding some starch can enhance the dish. • Best served with either basmati or brown rice. Rinse the rice in lukewarm water at least 5 times to remove the starch and then soak the night before. This stops the rice from sticking the following day. • This same dish can be made with lamb.
Other recipes you might like