Print me
Introduction
If you are cooking a turkey crown (the breast only, on the bone) for Thanksgiving or Christmas then you may like to try cooking it in a salt crust. The crust seals in flavour and moisture and when you crack the crust do this at the table as the air is filled with delicious herby aromas.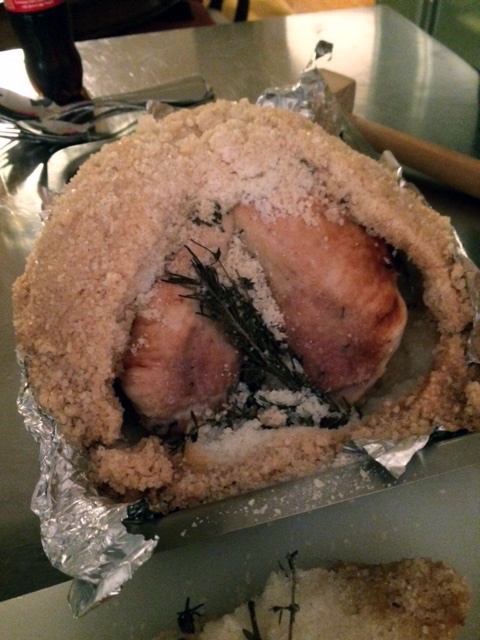 3½ kilograms coarse salt
7 large egg whites
2 kilograms turkey breast Turkey crown - on the bone
1 bunch fresh thyme
1 bunch fresh rosemary
Please note that nigella.com is not able to accept responsibility for any substitutions that Ocado may need to make as a result of stock availability or otherwise. For any queries, head to ocado.com/customercare.
Feel free to use the "swap" feature and adjust brands and quantities as needed.
Method
Turkey Crown in a Salt Crust is a community recipe submitted by CMS and has not been tested by Nigella.com so we are not able to answer questions regarding this recipe.
Preheat the oven to 200c/400F/Gas Mk 6. Use a roasting tin that will hold the turkey crown snugly and line with foil (lining the tin is important unless you want to spend a lot of time chipping the salt crust out of the tin).
Mix the salt and egg whites together in a large bowl. The salt should look a little like damp sand. The easiest way to do this is to put on a pair of CSI (vinyl disposable) gloves and use your hands. Season the turkey breast with a little black bepper.
Put a layer of salt in the bottom of the roasting tin, about 1/2cm/1/4 inch thick. Put all but a couple of sprigs of the thyme plus all of the rosemary on the salt and sit the turkey on the herbs. Lay a couple of sprigs of thyme on top of the turkey then pack the remaining salt all over the turkey so that it is completely enclosed in the salt crust.
Put the salt crusted turkey in the oven and cook for 1 hour and 20 minutes. To check that the turkey is cooked insert a metal skewer through the crust and into the thickest part of the turkey breast. Hold it there for 10 seconds then remove and check carefully - the tip of the skewer should feel hot (if you have a digital or instant read thermometer then it should read at least 75c/170F). If the turkey is not quite cooked properly then return to the oven for 10 minutes and check again.
Remove the cooked turkey from the oven and leave to rest for 20 minutes. Crack the crust with a wooden mallet or rolling pin and lift the crust away. Remove the turkey breast and peel away the skin (it may be too salty to eat) before carving the turkey.
Other recipes you might like