Print me
Introduction
This Eggplant (aubergine) Dip recipe is based on a recipe from Abla Amad's fabulous 'The Lebanese Kitchen'.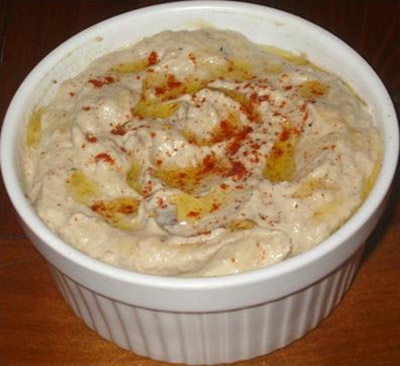 2 large eggplants
1 clove garlic
2 cups tahini
½ cup lemon juice
1 teaspoon salt
1 tablespoon finely chopped fresh parsley
1 tablespoon diced tomatoes (or finely sliced radish)
1 pinch of paprika
1 splash of olive oil
Method
Baba Ghannooj is a community recipe submitted by Coby and has not been tested by Nigella.com so we are not able to answer questions regarding this recipe.
Blacken two eggplants on a hot griddle until they collapse, turning them every so often. Ms Amad suggests on an open flame, but I find it's a little easier, but just as smokey with a griddle pan.
Peel away a little of the skin once they are cool enough to handle, and scrape the flesh out of the fruit into a food processor bowl in which you have already chopped the garlic a little.
To the eggplant and garlic add the tahini, juice and salt. Blend it together well.
Scrape dip into a large, flat bowl and garnish as you like with a sprinkling of parsley, tomato or radish and paprika, finishing with a florish of olive oil.
As the photo shows you can serve it without the extra garnish!
Additional Information
Abla explains that the tahini can be omitted, in which case the dip is then called 'batinjan m'tabal'.
Other recipes you might like