Print me
Introduction
Now when I say these have never failed, I genuinely mean that. I have been making this particular one for a couple of decades now :)
Preheat oven to 230 C to 240 C - At 240C in the hottest part of your oven, the scones may take as little as 8 minutes to cook.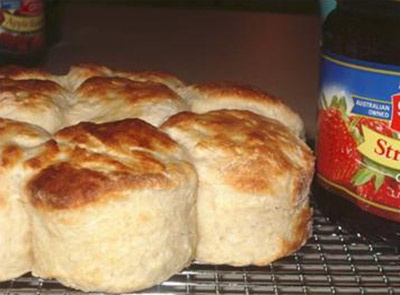 2 cups self-rising flour
2 teaspoons superfine sugar
15 teaspoons chopped butter
1 cup milk
1 pinch of salt
Please note that nigella.com is not able to accept responsibility for any substitutions that Ocado may need to make as a result of stock availability or otherwise. For any queries, head to ocado.com/customercare.
Feel free to use the "swap" feature and adjust brands and quantities as needed.
Method
Basic Scones is a community recipe submitted by Coby and has not been tested by Nigella.com so we are not able to answer questions regarding this recipe.
Sift flour, salt and sugar into medium bowl; rub in butter with fingertips.
Make a well in centre of ingredients, add almost all the milk at once. Using a knife, 'Cut' the milk through the flour mixture to mix to a soft, sticky dough.
Add remaining milk only if needed for correct consistency. It should be soft and sticky. Turn dough from bowl onto lightly floured surface.
Knead lightly until smooth. Press dough out gently and evenly to approximately 2cm thickness. Don't use too much flour on the board or the balance of ingredients will be upset.
Dip 5cm cutter into flour, cut as many rounds as you can from the piece of dough.
Place scones side by side, just touching, in lightly greased 20cm sandwich pan. Gently knead dough into round shape again; the scones from the second handling will not be quite as light as those from the first.
When patting the dough out, leave it a little thicker than the first time. Brush tops with extra milk. Bake in a very hot oven for about 10 to 15 minutes, or until tops are browned and scones sound hollow when tapped with fingertips.
Tips: You can use cream or soured buttermilk, watered down yoghurt, or water on it's own if you want very pale scones. Using a cake tin gives the scones a wall to stop them toppling over, and also allows them to brown evenly on top.
Don't squash the scones into the pan, they should be just touching. They do expand as well as rise and overcrowding will make it difficult to cook the scones in the middle.
You must cook the scones at a very high temperature - the hottest part of your oven will give the best results.
To test the scones are done, tap the centre scones firmly with fingertips, they should sound hollow and look evenly browned. Turn the scones onto a wire rack. If you want scones to be soft, wrap them immediately in a clean tea-towel, if you want them crisp, leave them on the rack to cool, uncovered.
Other recipes you might like