More recipes
Recipe search
Pasta With Chicken in Mustard Turmeric Sauce
A community recipe by

Coby

Not tested or verified by Nigella.com
Print me
Introduction
I made this dish up years ago, and it's still popular in our family. Pasta and chicken are two of our favourites, and I just adore all things mustard.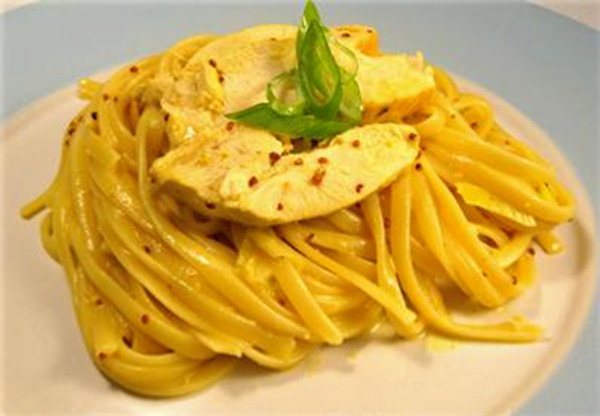 2 large chicken breasts (with the skin on*)
1 pinch of kosher salt
½ cup noilly prat (or white wine)
1 tablespoon wholegrain mustard
1 tablespoon dijon mustard
1 teaspoon turmeric
1½ cups chicken broth
¾ cup light cream
4 large scallions (sliced on the diagonal)
seasoning (to taste)
18 ounces bavette pasta (or linguini pasta)
Method
Pasta With Chicken in Mustard Turmeric Sauce is a community recipe submitted by Coby and has not been tested by Nigella.com so we are not able to answer questions regarding this recipe.
Remove skin from chicken and render it in a large pan on a gentle heat. Sprinkle over a small amount of salt flakes to help draw out the fat, cover and leave it cook down for about 15 minutes, check the fat, turn it over and crisp it more on the other side. Now here's a bit of a pssst. These little golden crispy sails of chicken skin are DELICIOUS. For a dinner party you could, I suspect make a bit of a swish garnish with the skin atop the pasta. If you live in our family though, it's 'cook's treat' - only it's shared between cook and little assistants! Anyway, back to the recipe.
Bump up the heat and add the chicken fillets, browning well on each side, but not worrying about cooking them through at this stage. Set the fillets aside and deglaze the pan with the Noilly Prat.
Stir in the mustards, turmeric, chicken broth and seasonings if using. Bring to the boil, reduce heat to simmer and return chicken. Cover, and leave to simmer for about 10 or so minutes (time will depend on size of breasts). When chicken is nearly cooked through remove from heat and set aside to rest. Increase heat and reduce sauce.
Meanwhile cook the pasta according to packet directions. When sauce has reduced slightly, add cream and scallions** (leaving some aside for garnish) taste and adjust seasonings in need.
When pasta is cooked, drain and add sauce and chicken to the pasta stir through, then turn off the heat and leave to sit for a couple of minutes to help the sauce to thicken before serving.
Additional Information
* If you prefer, or if your chicken is skinless just replace the rendered skin with olive oil, the flavour won't be as exciting, but it is of course, healthier.
** Originally I'd not add the spring onions until the end, but think the children find it a little softer to eat once it's cooked a little more.
Other recipes you might like