More recipes
Recipe search
Granny's Christmas Pudding
A community recipe by

Crafty Cookie

Not tested or verified by Nigella.com
Print me
Introduction
A light delicious traditional pudding, best served with hot custard, whipped double cream or brandy butter. Traditionally steamed on Stir up Sunday (second Sunday in November). Smaller versions can be made - I use a 180ml greased dairyole mould with a small circle of greaseproof paper on the bottom. Cover as per 1pt bowl. Cooking time is 3 hours and then 1 - 1 1/2 hours on the day of eating. Larger verisons - 2 pint sized bowl, prepare as before, steam for 8 hours and then 2 1/2 on the day of eating.
227 grams melted butter
284 grams stale breadcrumbs
113 grams all-purpose flour
½ teaspoon ground mace
1 teaspoon ground ginger
1 teaspoon grated nutmeg
227 grams turbinado sugar
142 grams mixed peel
170 grams candied cherries (quartered)
227 grams golden raisins
½ kilogram raisins
85 grams chopped nuts
1 medium grated carrot
6 large beaten eggs
2 tablespoons black molasses
⅕ litre strong ale
Method
Granny's Christmas Pudding is a community recipe submitted by Crafty Cookie and has not been tested by Nigella.com so we are not able to answer questions regarding this recipe.
Sieve flour and spices into a huge mixing bowl. Add breadcrumbs and sugar, mix well. Add candied peel, cherries, golden raisins, raisins, nuts and grated carrot. Mix well.
Add beaten eggs and treacle, mix well then add cooled melted butter, mix well; and the beer and mix well.
Cover bowl with cling film and leave in the fridge overnight.
Mix for a final time. Let each member of the family stir and make a wish. Divide between 4 x 1 pint greased pudding basins.
Cover with a pleated sheet of greaseproof paper, then with a pleated sheet of aluminium foil, and secure with a large piece of string.
Steam for a minimum of 4 hours.
Cool slightly in the bowl, turn out onto a wire rack.
When cool cover with clean greaseproof paper and aluminium foil.
Additional Information
Store in a cool dry place for up to 18 months.
To reheat, steam for 1 1/2 - 2 hours.
Other recipes you might like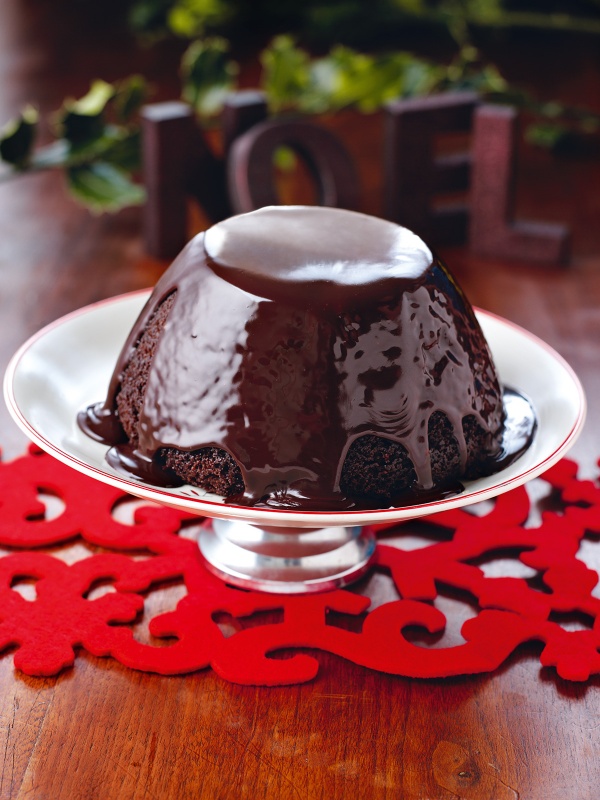 Chocolate Pudding for Christmas Pudding Haters With Hot Chocolate Sauce