Print me
Introduction
An interesting twist on one of the most popular Canadian bars.
For the Base
1 ounce white chocolate
¼ cup butter
1 beaten egg
½ cup unsweetened shredded coconut
¼ cup finely chopped almonds
1½ cups graham crackers (crumbs)
For the Middle Layer
⅓ cup butter
⅔ cup unsweetened cocoa
1⅓ cups confectioners' sugar
3 tablespoons milk
2 tablespoons custard powder
1 tablespoon vanilla
For the Top Layer
4 teaspoons vegetable oil
4 ounces coarsely chopped white chocolate
1 ounce bittersweet chocolate
Method
Reverse Nanaimo Bars is a community recipe submitted by seedgirl and has not been tested by Nigella.com so we are not able to answer questions regarding this recipe.
Line 8-inch square metal cake pan with parchment paper; set aside.
In small heavy saucepan, melt white chocolate with butter over low heat, stirring until smooth. Stir in egg, coconut and almonds. Remove from heat; stir in cracker crumbs.
Press evenly into prepared dish.
Bake in centre of 350°F (108°C) oven until firm, 12 to 15 mins. Let cool on rack.
Middle Layer:
In heavy saucepan, melt butter over low heat; stir in cocoa until smooth.
Transfer to bowl; beat in confectioners' sugar, milk, custard powder and vanilla until smooth.
Spread over bottom layer; refrigerate until smooth.
Top Layer:
Reserve ¼ tsp of the oil. In a small saucepan, melt white chocolate with remaining oil over a low heat; pour over middle layer, smoothing evenly.
Refrigerate until set.
Melt bittersweet chocolate with reserved oil; drizzle over white chocolate. Refrigerate until set.
Cut into bars or squares.
Other recipes you might like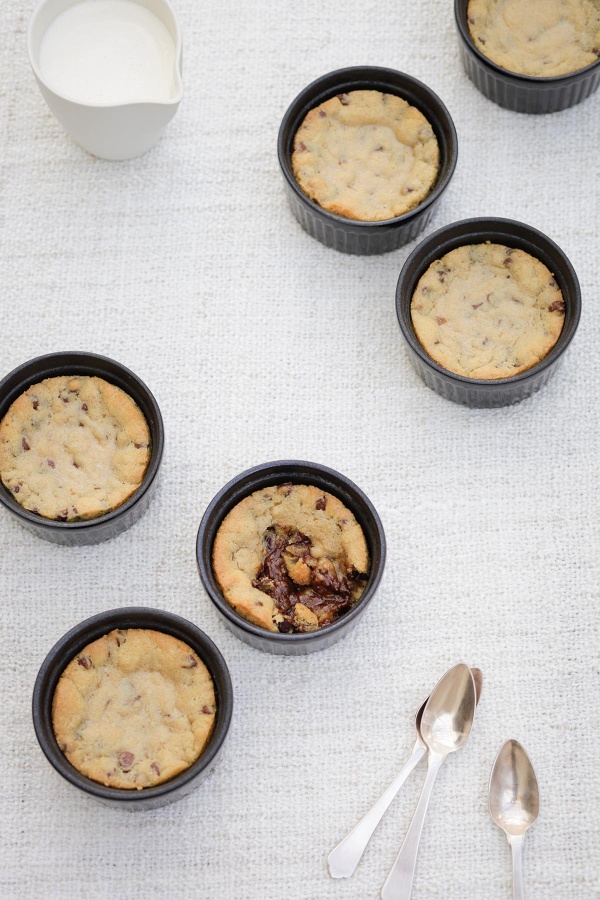 Chocolate Chip Cookie Dough Pots