More recipes
Recipe search
Easy Traditional Vegan Shepherd's Pie
A community recipe by

G30rg1na

Not tested or verified by Nigella.com
Print me
Introduction
Traditional flavours made Vegan. An easy to make recipe perfect for weekdays, for family dinners or to feed a crowd of hungry students! Serve it with roasted vegetables and potatoes and gravy on the side.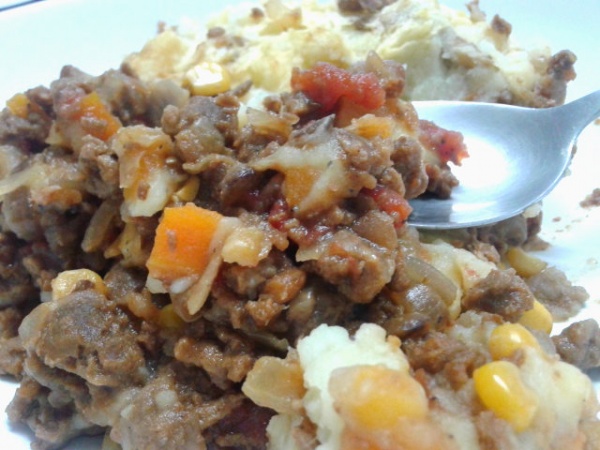 For the Mash Topping
russet potatoes scrubbed or peeled, chopped and boiled
1 instant mashed potato powder optional
For the Mince Filling
125 soya granules or other vegan soy mince - together with
1 lentils
250 soya granules or other vegan soy mince
1 onion chopped
1 tomato puree optional
125 chopped tomatoes tinned or fresh
1 Marmite heaped
1 vegetable stock cube, Oxo or
2 bouillon powder vegan
2 worcestershire sauce vegan or balsamic vinegar also works!
1 bay leaf optional
Vegetables
1 carrot chopped with
50 frozen peas and
50 sweetcorn tinned or frozen OR
175 frozen mixed vegetables
salt &
pepper to taste
olive oil spray as needed
Method
Easy Traditional Vegan Shepherd's Pie is a community recipe submitted by G30rg1na and has not been tested by Nigella.com so we are not able to answer questions regarding this recipe.
To make the mash: Drain the potatoes and keep some of the cooking water back. Mash the potatoes well and combine with either some packet mash to make it creamier, or just add some of the reserved cooking water to loosen the potatoes a little without the need for butter or milk! Add salt & pepper, mix well. Set aside.
Preheat oven at 200 C or 400 F
To make the mince filling: Chop the onion and spray a large pot with olive oil spray and cook the onion with a pinch of salt. If using a fresh carrot, finely chop and add to the onion mixture and cook both until tender. Add tomato puree if using.
Add in all the vegetables and tinned lentils, if using. Add the frozen soy mince, marmite and the crumbled Oxo cube or bouillion powder (and Vegan Worcestershire sauce if using), and season well with salt and pepper.

The mince mixture should have very little liquid on the bottom. Not dry, but not swimming in sauce. If it needs some more liquid, add some water bit by bit. If the sauce is too much, just cook it down until it has evaporated some more.

Turn the mince mixture out into a casserole dish, ready to be topped with the mashed potato.

Smooth the potato out to your liking, I prefer a few rustic swishes, which then brown and crisp whilst cooking. Make sure your potato has covered all the mince. Spray the mash lightly with some olive oil spray, to help it brown and crisp up.
Place into the preheated oven, and cook on high until the top has browned to your liking for about 25 minutes. Take out of the oven and let it rest for 10 minutes.
Serve with vegetables of your choice. Roasted or boiled cabbage, cauliflower, broccoli or Brussels sprouts - some roasties (roast potatoes) on the side and gravy.
Other recipes you might like