Print me
Introduction
This is unbelievably vegan, tasty and satisfying. I use good shop bought flaky pastry (check it's non-dairy) the results are really good. Just ensure you chill the pastry and filling well. Had this for Christmas Day 2017 and the meat eaters were falling over themselves to grab it.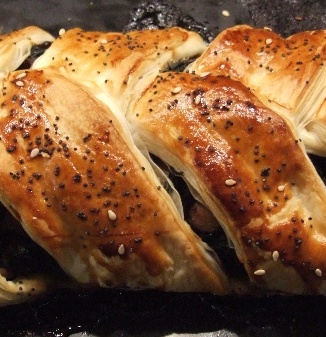 400 grams flaky puff pastry sheets (ready rolled or block)
1 tablespoon soya milk
1 teaspoon marmite
200 grams chestnut mushrooms
1 tablespoon light olive oil
1 onion (medium)
100 grams firm tofu
1 teaspoon ground cumin
1 large clove garlic
1 teaspoon salt to taste
1 teaspoon white pepper to taste
1 slice bread (white or brown)
1 small red pepper
1 heaped tablespoon crunchy peanut butter (sugar free preferred)
2 tablespoons soya milk
1 tablespoon ground flaxseed
50 grams chopped walnuts (medium-fine)
50 grams porridge oats (not quick cook)
Method
Flaky mushroom slice is a community recipe submitted by Cookie891 and has not been tested by Nigella.com so we are not able to answer questions regarding this recipe.
Gas mark 6/200 C/400 F Line a large baking sheet at least 40 cms long x 25 cms wide with baking parchment

Mix the first tablespoon of soya milk with the marmite in a small bowl until well combined, set aside

In a food processor, pulse mushrooms until quite fine. Tip into a large frying pan with 1 tablespoon olive oil.
Pulse onion and red pepper until fine but not pureed and add to mushrooms.
Then pulse tofu until fine crumbed and add to frying pan. Gently fry everything for 10 minutes on low heat.
Add crushed garlic, cumin, salt and pepper to taste and cook for 2 more minutes. Take off heat and leave to cool for 10 minutes.
Process bread to make fine breadcrumbs and add to cooled mushroom mix along with the chopped walnuts and oats.
In a small bowl, mix flax seeds with the soya milk and stir in the peanut butter until well combined. Leave for 5 minutes.
Fold in enough of the flax and peanut butter mixture (which should be a bit gluey) to bind the mushroom mix so you have a firm-ish texture. It must not be too wet. If you over do it, add some more breadcrumbs and/or oats. Check seasoning. Chill for a good 30 minutes.
Roll out pastry to form a large square approx. 35cms x 35cms and carefully place on a large baking sheet or leave on your rolling surface to move plait once made.
Form the mushroom mix into a fat sausage shape (approx 15cm wide and 30 cms long) with your hands (dust them lightly with flour if necessary) and place in the centre of the pastry.
From each side of the pastry cut lines downwards at an angle, make sure you do not cut too close to the mushroom mixture.
Using a pastry brush, lightly dab the soya milk and marmite glaze along the side edges of the cut pastry and the top edges and then tuck the top and bottom edges neatly in and then fold each side cut/flap alternately over the other to form a plait like design. Press pastry lightly to seal.
Carefully move the plait onto your baking tray if you did not do so earlier and brush the soya milk and marmite glaze over the whole outer plait surface. Optionally sprinkle with nigella seeds (as I have done), or sesame, or chia seeds are good too.
Cook in the oven on the middle shelf for approx 30-40 minutes until pastry is golden brown (especially check the underneath).
Serve warm or cold.
Other recipes you might like