Print me
Introduction
An easy dish made with leftover rice. It takes barely 5 minutes to make and you can take the rice right out of the fridge and plop it into the pan with the spices and other ingredients. Eat on its own as a snack, with an omelette for breakfast or with fish curry for an afternoon meal.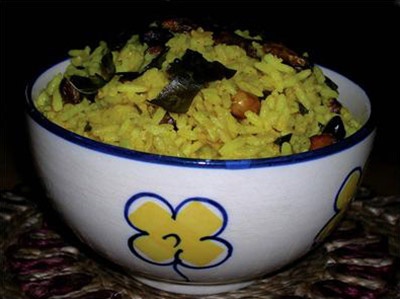 2 cups cooked rice
2 tablespoons unroasted peanuts
1 teaspoon black mustard seeds
1 dried red chilli pepper
15 fresh curry leaves
½ teaspoon turmeric
½ tablespoon lemon juice
3 teaspoons vegetable oil
salt (to taste)
Method
Quick Lemon Rice is a community recipe submitted by hobbycook and has not been tested by Nigella.com so we are not able to answer questions regarding this recipe.
Heat a wok and add 2 teaspoons of oil. When the oil is hot, add the peanuts and turn down the heat to medium. Fry, tossing all the while, till the peanuts are cooked but not scorched. Remove from wok with slotted spoon.
Add the remaining oil in the wok. Put in the black mustard seeds, dried red chilli and curry leaves. When they begin to sputter, add the ground turmeric. Stir gently once. Don't let the spices burn.
When the spices are fragrant, turn the heat down to low and add the rice and peanuts. Turn the rice gently in the spices until the rice has taken on a rich golden colour and is slick with the oil. Add salt (if the cooked rice is unsalted) and 1 tbsp lemon juice.
Continue to turn the rice gently so that the lemon juice is absorbed throughout. Taste and add more lemon juice if required. Serve at once with roasted poppadum or onion bhaji or both.
Additional Information
The rice needs to be cold or at least at room temperature. If the rice is warm, it will stick to the wok and the grains will break when you turn it in the spices. If you are using dried curry leaves instead of fresh, increase the number of leaves to about 20. If you don't have dried red chilli, use fresh green chilli. Don't use chilli flakes, this will colour the rice and also make it too spicy. You can use unsalted roasted peanuts if you don't have unroasted ones. These don't need to be fried and should be added along with the rice in step 3.
Other recipes you might like