More recipes
Recipe search
Irene's Ribs With Teriyaki Sauce
A community recipe by

irene

Not tested or verified by Nigella.com
Print me
Introduction
slow cooked pork ribs that come out juicy and tender
For the Ribs
1 pork ribs
5 tablespoons chinese five spice
1 pinch of salt
1 pinch of pepper
For the Sauce
1½ cups tomato ketchup
1 tablespoon dijon mustard
1 cup lemon juice
¼ teaspoon soy sauce
1 teaspoon cumin
3 cloves smashed garlic
1 inch smashed fresh gingerroot
½ small grated onion
1 teaspoon celery salt (or grated celery)
1 tablespoon worcestershire sauce
1 tablespoon asian sesame oil
½ cup brown sugar
½ teaspoon red pepper flakes
1 teaspoon lemon zest
Method
Irene's Ribs With Teriyaki Sauce is a community recipe submitted by irene and has not been tested by Nigella.com so we are not able to answer questions regarding this recipe.
Preheat oven to 300 degrees.
Place oven proof dish with water on the bottom rack of oven. Combine all sauce ingredients into saucepan. Bring to boil for 10 minutes. Then let cool.
Rub five spice powder over ribs on both sides and sprinkle with salt and pepper to your own liking.
Place on rack on foil covered baking sheet and place on top rack in oven for 3 hours.
Baste with Sauce every 25-30 minutes until done and tender.
Other recipes you might like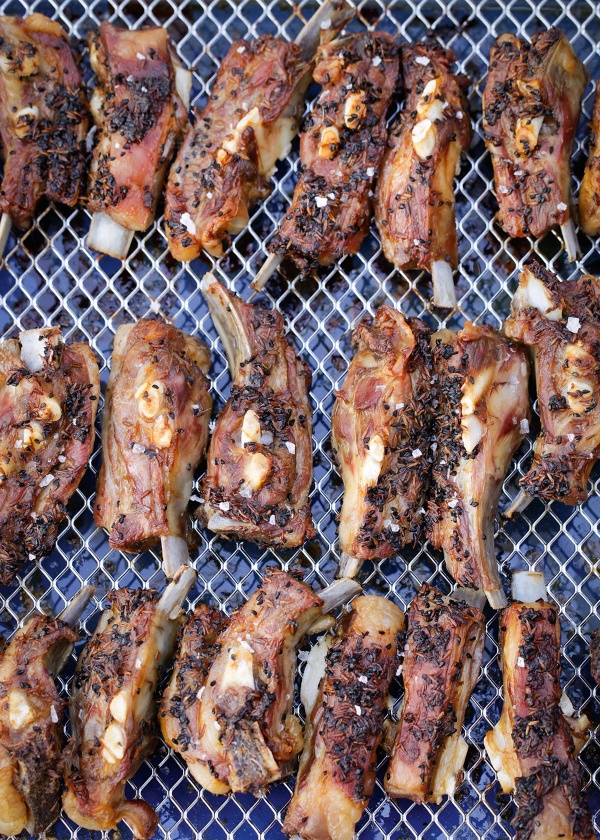 Lamb Ribs With Nigella and Cumin Seeds