Print me
Introduction
As mentioned in the 'Most Disgusting Food You Ate....' thread. But THIS is NOT disgusting!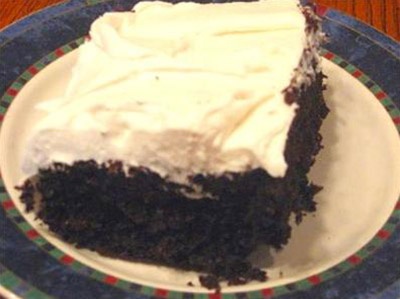 2 cups flour
1 cup sugar
2 teaspoons baking soda
4 tablespoons unsweetened cocoa
¼ teaspoon salt
1 cup water
1 cup mayonnaise
1 tablespoon vanilla
Method
Mayonnaise Chocolate Cake is a community recipe submitted by JonMc and has not been tested by Nigella.com so we are not able to answer questions regarding this recipe.
Sift dry ingredients into a large bowl.
Add the water and beat 1 minute. Add the mayonnaise and beat 1 minute. Add the vanilla and beat 1 minute.
Pour into a greased and floured pan, 13 x 9 inch square for a very high cake.
Bake at 350 degrees for 35-40 minutes.
Additional Information
Ice the cake as you choose, but I like the taste and visual contrast of a simple vanilla buttercream icing.
Other recipes you might like