Print me
Introduction
I have a friend who is pretty much obsessed with two things: Reggae and Coffee. So for his birthday I thought it would be fun to try to incorporate the two. The result was a fun, colourful cake that not only looked amazing and was a show stopper when it was cut open but tasted awesome…so I am told
For the Cake
563 all-purpose flour
313 granulated sugar
3½ teaspoons baking powder
1 teaspoon salt
313 milk
vegetable oil
1 stick softened butter ()
1 tablespoon vanilla extract
4 medium eggs
2 teaspoons red food colouring
2 teaspoons yellow food colouring
2 teaspoons green food colouring
For the Coffee Butter Icing
250 unsalted butter (at room temperature)
2 tablespoons milk (at room temperature)
1 teaspoon vanilla essence
3 teaspoons espresso coffee (dissolved in small amount of hot water)
500 sifted confectioners' sugar
Method
Edgars Reggae Cake is a community recipe submitted by Konstant Kraver and has not been tested by Nigella.com so we are not able to answer questions regarding this recipe.
Preheat oven to 175°C Cut wax paper to fit the bottom of (3) 9 x 1 1/2-inch round pans. Spray the pans with cooking spray, place the wax paper in the pans and spray the paper.
In a large mixing bowl combine the flour, sugar, baking powder and salt, mixing well.Measure the 1 ¼ cups of milk in a 2 cup measuring cup….then add enough vegetable oil to bring the liquid up to 1 1/3 cups.
Add the milk/vegetable oil mixture, butter and vanilla to the flour mixture and beat with an electric mixer on medium to medium-high speed for 2 minutes, scraping sides of bowl as needed.
Add the eggs and continue beating an additional 2 minutes.
Divide the batter among 3 bowls and add the different colourings to each bowl and stir till you get lovely vibrant colours.Pour batter into prepared pans. Bake at 175°C for 20 to 25 minutes or until a wooden pick inserted near center of cake comes out clean, or until cake springs back when touched lightly in the center.
Cool cakes on wire racks for 15 minutes; remove from pans and cool completely.
In a large mixing bowl beat the butter, milk, espresso mixture and half the confectioners' sugar until smooth.
Gradually add the remainder of the confectioners' sugar to produce a butter-cream of a smooth and creamy consistency.
Spread a generous amount of icing in between the layers and assemble the cake. Next use the remaining icing to cover the cake. Decorate with any red, yellow and green sprinkles you can find in keeping with the Reggae theme.
Other recipes you might like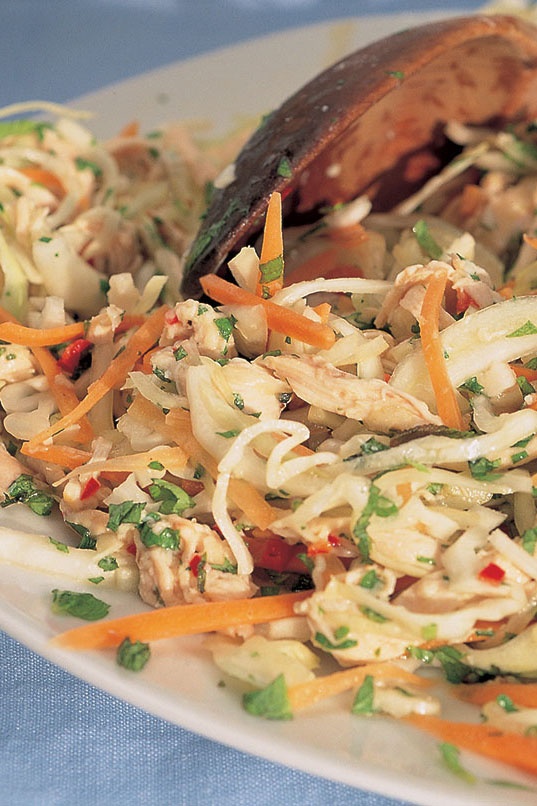 Vietnamese Chicken and Mint Salad