Print me
Introduction
I just adore this type of food! All in one pot!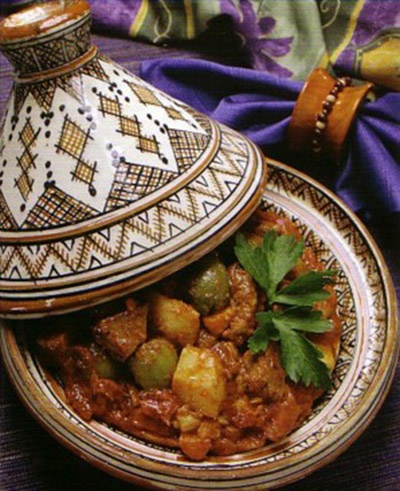 1½ pounds beef stew meat (cut into 1 inch pieces)
1 teaspoon paprika
1 teaspoon cayenne pepper
1 teaspoon ground cinnamon
½ teaspoon ground ginger
2 cloves crushed garlic
¼ cup extra virgin olive oil
2 tablespoons tomato paste
4 shallots (quartered)
1 large cubed potato
1 large cubed carrot
1 tin diced tomatoes
2 tablespoons chopped fresh italian parsley
1 salt
¼ cup green olives (pitted)
Method
Beef and Green Olive Tajine is a community recipe submitted by Krakra58 and has not been tested by Nigella.com so we are not able to answer questions regarding this recipe.
Mix the paprika, cayenne, cinnamon, ginger and garlic into 2 tbsp. of the oliveoil and tomatopaste in a large bowl.
Add the beef, toss and coat, leave to marinate in the fridge overnight.
Heat the remaining oil in the bottom of the tajine (or skillet) and fry the shallots, potatoes and carrots until they begin to colour. Remove from pan.
Add the beef and brown on all sides. Return the vegetables to the tajine allong with the diced tomatoes and remaining marinade.
Cover and cook over a low heat for 3 to 4 hours until Beef is tender.
Add the parsley, season with salt and stir in the green olives.
Continue cooking for 15 minutes. Serve with Cous-Cous and/or flat Moroccan bread.
Additional Information
Once you've eaten this, you'll not want to stop!
Other recipes you might like