Print me
Introduction
Daughter's recipe of the day: Let them eat cake!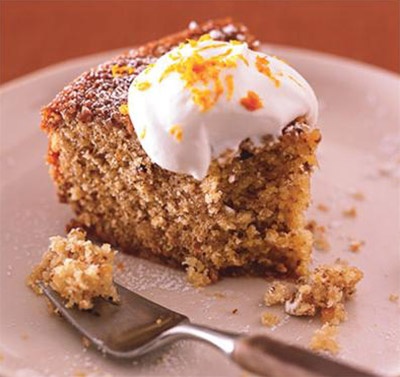 Ingredients
Serves: 8 to 10
olive oil spray
1½ cups chopped walnuts
1 cup all-purpose flour
1 tablespoon baking powder
4 large eggs
1½ cups sugar
½ cup fresh orange juice
1 tablespoon finely grated orange zest
½ cup olive oil
confectioners' sugar
whipped cream (lightly sweetened)
Method
Orange and Walnut Cake is a community recipe submitted by Krakra58 and has not been tested by Nigella.com so we are not able to answer questions regarding this recipe.
Preheat oven to 350F (125oC) Spray a 9inch-diameter springform pan with nonstick olive oil spray, place a piece of round parchment paper on bottom of pan and spray the paper.
Grind the walnuts, not too finely, combine with flour and baking powder in a medium bowl, set aside.
Beat the eggs until frothy, about 2 minutes. Gradually add the sugar, beating until light, thick and pale yellow, about 4 minutes. Gradually add the walnut/flour mixture, then the orange juice and peel, olive oil, beating until just blended.
Transfer the batter to prepared pan. Place the pan on a rimmed baking sheet and bake until tester inserted into center comes out clean, about 1 hour. Cool completely in pan on rack. Release pan sides.
Carefully invert cake unto platter and remove the paper base. Sprinkle powdered sugar, a dollop of whipped cream and some grated zest and serve!
Other recipes you might like