Print me
Introduction
I can live without meat so when I was gifted a big jar of organic apple sauce, I thought I would have to see how it could best be called upon in the kitchen.
Apart from using it in Nigella's "Andy's Fairfield Granola", I think I have found another fab way to let it shine with this gratifyingly simple recipe.
I use a six-bun muffin tin in this recipe but you could easily multiply the quantity of ingredients in order to fit more in your muffin tin.
Apple sauce is used here but I guess it would also be possible to just grate in some juicy apples instead. If you have tried it, please do comment below so that we could all find the most desired/personalised way for ourselves to indulge in some quality time with these lovely golden babies.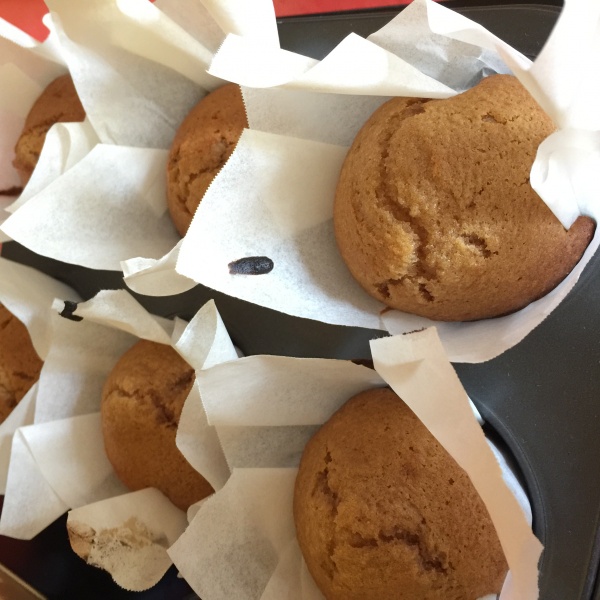 110 grams apple sauce
40 millilitres maple syrup
60 millilitres flavourless oil
1 egg
30 grams soft brown sugar
110 grams plain flour
½ teaspoon baking powder
¾ teaspoon bicarbonate of soda
Please note that nigella.com is not able to accept responsibility for any substitutions that Ocado may need to make as a result of stock availability or otherwise. For any queries, head to ocado.com/customercare.
Feel free to use the "swap" feature and adjust brands and quantities as needed.
Method
Mapple Muffins (Apple & Maple) is a community recipe submitted by eddy_ and has not been tested by Nigella.com so we are not able to answer questions regarding this recipe.
Preheat the oven to 200°C/180°C Fan/400°F/gas mark 6 and line a six-bun muffin tin with papers.
Whisk all the ingredients together in a big bowl, using a freestanding mixer, handheld electric mixer or simply by hand, until you have an enticing buff-toned smooth mixture.
Divide the mixture among the prepared papers. I like spooning it with an ice-cream scoop and using a teaspoon just to make sure scrape the last bit out from the scoop.
Bake in the preheated oven for 15–20 minutes, by which time the muffins should have acquired a slightly deeper buff tone and should be rounded/heaped (probably with some charming cracks).
Allow to cool slightly in their tin on a wire rack.
I prefer eating them (yes, plural!) when they are still a bit warm. Alternatively, I suppose you may also top them with some buttercream, whipped cream, more syrup or anything that you fancy when they are completely cool.
Other recipes you might like