More recipes
Recipe search
Peter's Peach and Chocolate Trifle
A community recipe by

Brybaz

Not tested or verified by Nigella.com
Print me
Introduction
I was asked by Jo, to make a Trifle for her husband's 90th birthday party and wanted peaches and custard in it with sherry. This is what I ended up with and was well received. A challenge but a nice result in the end. I thought I would share it with others.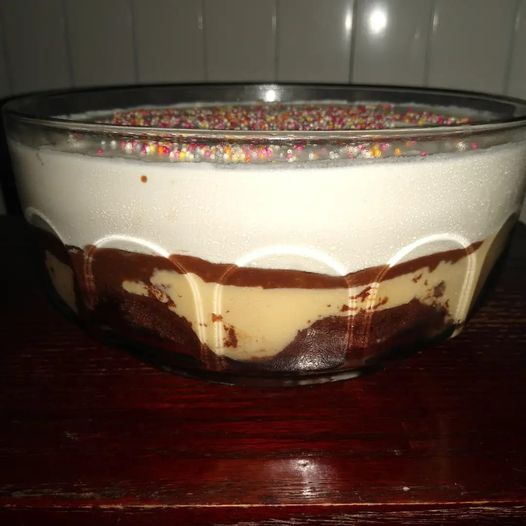 1 tin canned peach halves in syrup
100 millilitres sherry
75 grams chocolate chips
500 millilitres custard
6 tablespoons natural yogurt
1 chocolate swiss roll (sliced)
2 tablespoons icing sugar
2 teaspoons vanilla extract
75 grams hundreds and thousands
1 tablespoon Bird's custard powder
Please note that nigella.com is not able to accept responsibility for any substitutions that Ocado may need to make as a result of stock availability or otherwise. For any queries, head to ocado.com/customercare.
Feel free to use the "swap" feature and adjust brands and quantities as needed.
Method
Peter's Peach and Chocolate Trifle is a community recipe submitted by Brybaz and has not been tested by Nigella.com so we are not able to answer questions regarding this recipe.
Cut the Swiss Roll in slices and place on side's and bottom of a trifle bowl or clear glass dish.
Put sherry and chocolate chips in the pot and add peaches and half the tin of syrup then stir until chocolate chips have melted and warm. Then start to let cool.
Put the 6 tablespoons of the sherry chocolate juice on top of the Swiss roll and add the peaches. Save the rest of the sherry juice for later.
As it's cooling, make the custard and allow to cool for a while then pour on top of peaches and put in fridge to cool further.
Add half a tablespoon of birds custard powder to rest of sherry juice (that you saved from earlier) and put in microwave for 30 seconds to a minute. Stir until smooth and thick. Pour on top of yellow custard and put back in fridge.
Put cream in a bowl and add vanilla extract and icing sugar and whisk until peaks start to form and fold in yoghurt. Pour on Top of custard and put back in fridge to set. Add sprinkles of 100s of thousands then serve.
Other recipes you might like