Print me
Introduction
This is my paternal grandmother's recipe for a traditional Dutch (or Netherlander, to be more correct) "appel taart". It is simple to make and very good to eat, the grated apple providing an interesting texture for the tart's filling.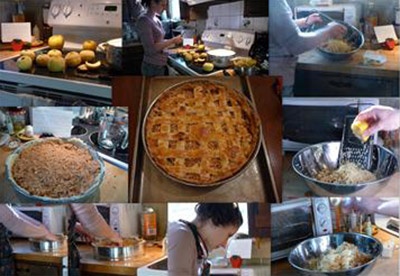 8 ounces soft butter
7 ounces sugar
12 ounces flour
1 medium egg (separated)
8 apples
1 sprinkling of cinnamon
3 drops lemons
Method
Dutch Appel Taart is a community recipe submitted by Psappha and has not been tested by Nigella.com so we are not able to answer questions regarding this recipe.
Preheat oven to 350F/180C/Gas Mark 4.
Soften the butter. Add the sugar, the egg white, and 2 cups/280g of the flour. Knead the dough, adding the extra 1/2 cup/70g of flour if it is too sticky. Form into a ball.
Peel and core the apples and grate into a mixing bowl. Squeeze several drops of lemon over the grated apple to prevent them from browning too much. Sprinkle the grated apple with cinnamon to taste and mix. (N. B. You may want to add a little sugar if the apples are not full flavour)
On a well-floured surface, roll out about 3/4 of the dough to a circumference just bigger than the pan. Roll the dough onto your rolling pin then unroll over the springform pan to create the crust. Press the dough into the pan, and don't worry if it breaks or tears (as it almost inevitably will!), just patch it up and no-one eating it will be any the wiser!
Spoon in the grated apple.
Roll out the remaining dough into a rectangle and cut into strips to make the tart topping. The traditional top is a lattice design, but feel free to make any design you wish. You can even get out your cookie cutters and produce a truly original 'taart' design! Whatever your design, brush the dough with the egg yolk to make a glaze.
Bake for about 1 hour. The tart is done when the glaze is golden and the crust is hard and slightly darkened. Leave to cool and serve at room temperature.
Additional Information
Since the ingredients are so few, their quality is essential. In this case, it is the apples that must be good. I only use Pippins when in season, but there is no need for you to feel confined!
Other recipes you might like