Print me
Introduction
This crowd-pleaser features two layers of creamy chocolate and a chewy oatmeal cookielike layer. Walnut halves (or your favorite holiday candy) make a tasty topper.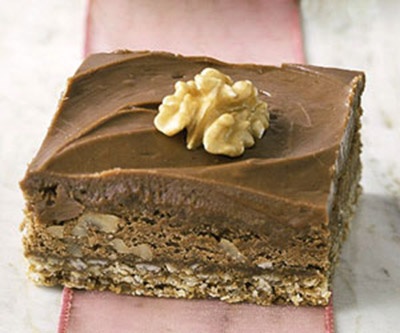 Ingredients
Serves: 32 brownies.
For the Bottom Layer
½ cup all-purpose flour
1 cup quick-cooking oats (quick-cooking)
½ cup brown sugar
¼ teaspoon baking soda
½ cup melted butter
For the Middle Layer
1 egg
¾ cup granulated sugar
⅔ cup all-purpose flour
¼ cup milk
¼ cup melted butter
1 ounce melted unsweetened chocolate (cooled)
1 teaspoon vanilla
¼ teaspoon baking powder
1 cup chopped walnuts
For the Top Layer
1 ounce unsweetened chocolate
2 tablespoons butter
1½ cups sifted confectioners' sugar
½ teaspoon vanilla
walnuts (halves)
Please note that nigella.com is not able to accept responsibility for any substitutions that Ocado may need to make as a result of stock availability or otherwise. For any queries, head to ocado.com/customercare.
Feel free to use the "swap" feature and adjust brands and quantities as needed.
Method
Tri-Level Brownies is a community recipe submitted by redheadev and has not been tested by Nigella.com so we are not able to answer questions regarding this recipe.
For bottom layer, stir together oats, the 1/2 cup flour, the brown sugar, and baking soda. Stir in the 1/2 cup melted butter. Pat mixture into the bottom of an ungreased 11x7x1-1/2-inch baking pan. Bake in a 350 degree F. oven for 10 minutes.
Meanwhile, for middle layer, stir together egg, granulated sugar, the 2/3 cup flour, the milk, the 1/4 cup melted butter, 1 ounce melted chocolate, the 1 teaspoon vanilla, and the baking powder until smooth. Fold in chopped walnuts. Spread batter over baked layer in pan. Bake about 25 minutes more or until a wooden toothpick inserted in center comes out clean. Set on a wire rack while preparing top layer.
For top layer, in a medium saucepan heat and stir 1 ounce chocolate and the 2 tablespoons butter until melted. Stir in the powdered sugar and the 1/2 teaspoon vanilla. Stir in enough hot water (1 to 2 tablespoons) to make a mixture that is almost pourable. Spread over brownies. If desired, garnish with walnut halves.
Cool completely on wire rack. Cut into bars.
Additional Information
Prep: 15 min. Bake: 35 min.
Other recipes you might like