More recipes
Recipe search
Spicy-Rich Chicken Wings Roast
A community recipe by

abdulmismail

Not tested or verified by Nigella.com
Print me
Introduction
When my mum made roast chicken (or a leg of lamb) every Sunday – many moons ago – she'd always coat the meat with Indian spices but there was one noticeable fact. Irrespective of how moist it was, the spicy layer was limited to the surface. Granted, the gravy would certainly add flavour to the chicken, but I recently thought (and I doubt I was the first) – why not create a roast chicken with chicken wings since the surface area is, collectively, a lot larger than one large chicken? Also, since the wings are so small, there's absolutely no need to open up the oven mid-way through cooking to baste.
In this dish, "Kacchi Masala" replaces Garam Masala, which is the key to its flavour, as is the Kewra water, Rose Water and Mustard oil.
This dish can be served with basmati rice, pilau rice, roti/naan or on its own with just with roast potatoes and salad.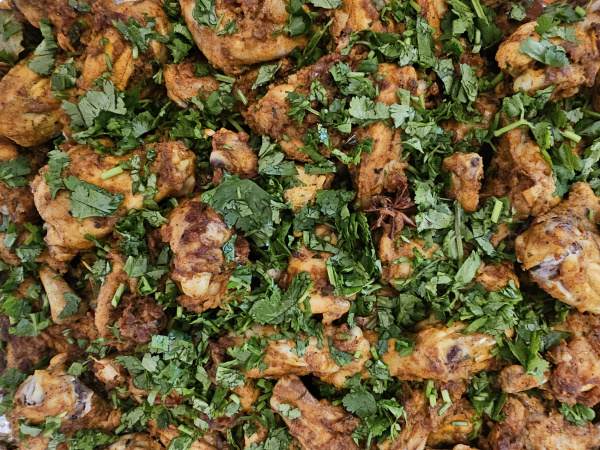 For the Kacchi Masala:
2 medium cinnamon sticks or Cassia Bark
13 cardamom pods
5 whole cloves
1 large nutmeg
2 medium mace
1½ tablespoons caraway seeds
1½ tablespoons ground white pepper
Chicken wings:
3 kilograms chicken wings
Spices:
1 tablespoon fenugreek leaves
3 bay leaves
1 teaspoon chilli powder
2 teaspoons paprika (heaped)
1 teaspoon madras curry powder (heaped/hot)
1½ teaspoons ground coriander
1 teaspoon ground cumin
2 teaspoons turmeric
2 bulbs of garlic
10 centimetres ginger
4 heaped tablespoons mustard oil
2 heaped tablespoons rosewater
2 heaped tablespoons water (Kewra water)
2 handfuls onions (fried)
½ bunch fresh coriander
Please note that nigella.com is not able to accept responsibility for any substitutions that Ocado may need to make as a result of stock availability or otherwise. For any queries, head to ocado.com/customercare.
Feel free to use the "swap" feature and adjust brands and quantities as needed.
Method
Spicy-Rich Chicken Wings Roast is a community recipe submitted by abdulmismail and has not been tested by Nigella.com so we are not able to answer questions regarding this recipe.
Add about 3 teaspoons of salt onto the raw chicken wings and fill the large bowl with cold water
Drain after soaking wings in salt water for 10 minutes (no need to rinse again).
Blend all the "Kacchi masala" ingredients to make a powder. This will make about 12 teaspoons, but please note that for this recipe, you'll only need 3 teaspoons.
Add all the ingredients apart from ginger, garlic and fresh coriander onto the now drained chicken wings and mix thoroughly. You may wish to wear gloves if you don't want your hands/nails soaked in spices.
Leave for a few hours to marinate in a refrigerator.
Place tin foil into a large flat oven tray.
Rinse then slice the entire garlic bulb into two and place in all four quarters of the oven tray, face down.
Use a teaspoon to peel the ginger, rinse then slice in to four, placing in all four quarters of the oven tray.
Pour the marinated ingredients onto the tray and ensure all wings are evenly spread.
Wrap the entire contents in tin foil and bake in the oven at 200 degrees Celsius for 50 minutes. After the time has expired, remove the tray from the oven and flip the chicken wings over, while at the same time placing those on the outside of the tray to the centre and those on the centre of the tray to the outside perimeter. Then, continue to bake for an additional 30 to 40 minutes.
Rinse, fold and squeeze fresh coriander stalks, dice and sprinkle over finished dish.
Other recipes you might like