More recipes
Recipe search
Spicy Strawberry Gummy
A community recipe by

chefjennydorsey

Not tested or verified by Nigella.com
Print me
Introduction
This recipe is from the Avatar the Last Airbender Official Cookbook. Inspired by Japanese daifuku, or mochi stuffed with a sweet filling, these are a more candy-like version with a strawberry-jalapeño gummy as the center. Great as both an after-meal dessert, or a pre-meal snack, and will warm you right up!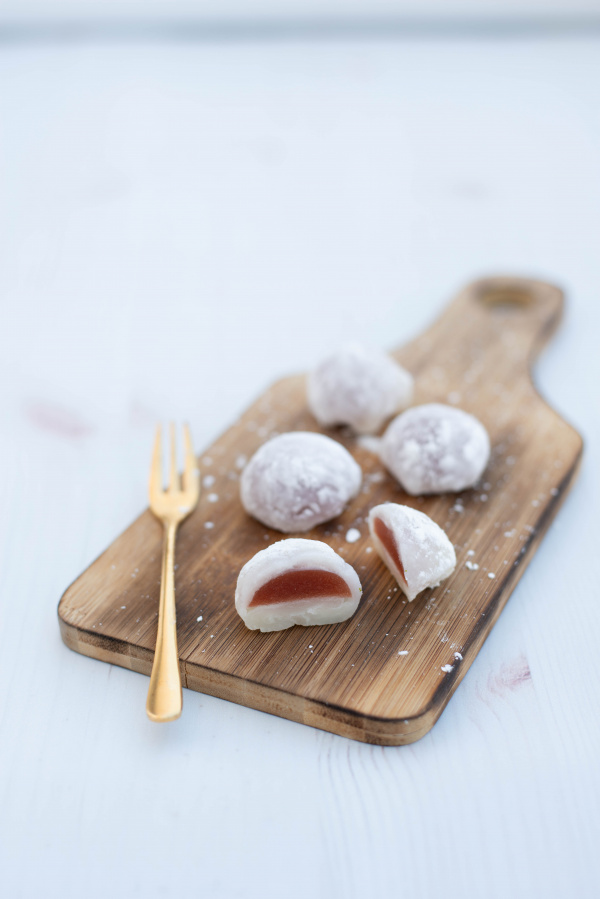 Filling (Gummy):
8 ounces strawberries (stemmed, chopped)
3 red jalapeno peppers (stemmed, chopped)
1 cup water
1 teaspoon kosher salt
1 cup granulated sugar
4 tablespoons powdered gelatine (As Needed)
Mochi
1 cup glutinous rice flour
3 cups water
1 cup granulated sugar
Please note that nigella.com is not able to accept responsibility for any substitutions that Ocado may need to make as a result of stock availability or otherwise. For any queries, head to ocado.com/customercare.
Feel free to use the "swap" feature and adjust brands and quantities as needed.
Method
Spicy Strawberry Gummy is a community recipe submitted by chefjennydorsey and has not been tested by Nigella.com so we are not able to answer questions regarding this recipe.
For the filling:
Combine strawberries, jalapeno, water, salt in blender. Puree until very smooth. Add sugar to taste.
Strain mixture through fine-mesh strainer.
For every 1 cup of mixture of strained liquid (250g), whisk in 4 packets of gelatin (or 3 Tbsp) and let bloom 5 minutes.
Transfer bloomed mixture to suitably sized pot, and gently heat on low heat until gelatin has completely dissolved, and temperature has reached at least 125F to activate the gelatin. If you don't have a temperature thermometer, you can bring it to a boil.
Spoon 1 tsp of pepper mixture into mini half-hemisphere molds.
Freeze until completely sold, approximately 2 hours.
Remove from molds and reserve for wrapping.
For the mochi: In microwave safe bowl, whisk together rice flour with water and sugar until smooth.
Place bowl in microwave and heat for 1 minute. Remove, stir, and place back into microwave.
Continue to microwave at 30 second intervals until the mochi is sticky, semi-translucent, and upon tasting has no "raw dough" taste.
Working quickly, transfer mochi dough to cutting board dusted generously with cornstarch.
Roll dough in starch, then use roller to roll dough to 1/8" thickness.
Use ring cutter to cut circles twice the diameter of the bottoms of gummy centers.
Pick up a disc of mochi dough. Using a brush, dust off cornstarch from the side of the mochi facing you, and place one gummy center at the center, flat side facing you.
Fold together all the mochi dough at the base of the gummy center (the flat side) and pinch together to seal.
Mochi can be stored at room temperature for up to 5 days.
Other recipes you might like