Print me
Introduction
During the Heatwave last week, I thought about a refreshing, light and tasty desert that would feel relaxing in the heat. This is what I ended up with and you can use a clear glass or trifle bowl but I thought I would use a 20cm bottom push through cake tin lined with a baking sheet in this case.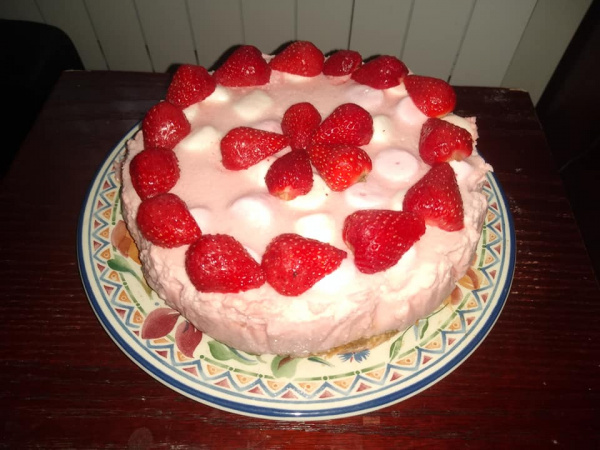 1 packet strawberry jelly
200 millilitres hot water
300 millilitres double cream
250 grams strawberries (cut into quarters)
200 grams marshmallows
250 grams ginger biscuits (crushed)
75 grams butter (melted)
1 fresh lemon juice (half a lemon)
2 heaped tablespoons icing sugar
1 teaspoon cinnamon
50 millilitres sherry
Please note that nigella.com is not able to accept responsibility for any substitutions that Ocado may need to make as a result of stock availability or otherwise. For any queries, head to ocado.com/customercare.
Feel free to use the "swap" feature and adjust brands and quantities as needed.
Method
Strawberry Summer Pudding is a community recipe submitted by Brybaz and has not been tested by Nigella.com so we are not able to answer questions regarding this recipe.
Crush the ginger nut biscuits with a bowl and rolling pin or in the blender until looks like small breadcrumbs.
Heat the butter on low heat and until melted and add the ginger biscuits until well mixed.
Put the biscuit base on the bottom of the clear bowl or a 20cm pushbottom cake tin with a baking sheet and make firm and put in fridge to chill.
Break strawberry jelly in a bowl and add hot water and stir until dissolved. Top up to 1 pint or 500 ml of cold water and leave to cool.
Leave some Strawberries for decoration and put the rest in a pan and add half a lemon juice and Cinnamon and sherry and heat slowly until Strawberries are soft.
In a bowl add the double cream and add the icing sugar and whip up to form firm peaks and add some of the strawberry liquid and soft strawberries from pan. Whisk on lowest speed.
Add the marshmallows to the rest of the pan and mix until the marshmallows have melted slightly leaving some of the goo on the bottom. Then add to the cream mix.
Spoon the liquid into your dish or tin until at desired depth. Put in the fridge to set.
Cut Strawberries in half that you saved and put on top of pudding in any design you like. Leave in fridge to chill. It should last a week if not eaten.
Additional Information
Tip: you can make a variation of this pudding by putting the Strawberry and sherry on the bottom of the biscuit base. Then whipping up the cream and icing sugar until peaks and add the 200ml of hot water to jelly and when cooled, add to the cream and add the marshmallows and cut fresh strawberries in half and mix with cream and put on top of the biscuit and sherry mix. Chill until set. It will be less wobbly and will serve 6.
Other recipes you might like