Print me
Introduction
I made this to support the Ukrainian appeal and used Makovyi Knysh (Ukraine Poopy Seed Roll) and used the colours of the Ukrainian flag. If you can't make Makovyi Knysh yourself and can't buy it, I suppose you could use Swiss Roll instead. #cookforulkraine was the influence behind my idea, so please support them. My hope is that if people make the trifle, they can donate money to their appeal. I raised £125.40.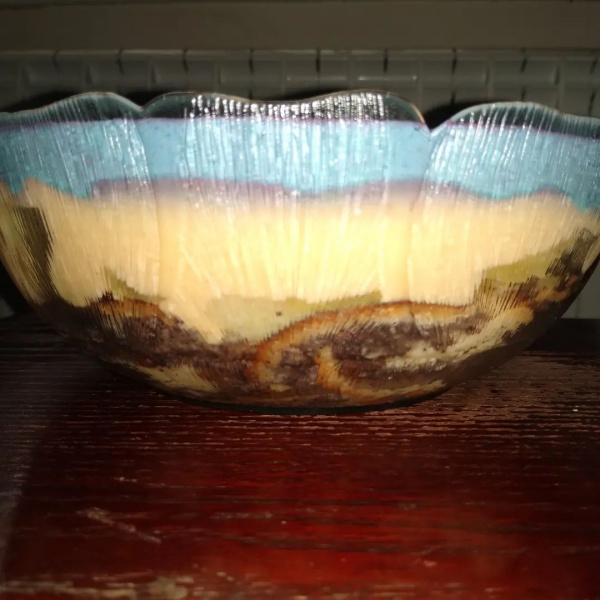 300 millilitres double cream
250 grams blueberries
500 millilitres custard
4 tablespoons natural yogurt
1 tablespoon lemon juice
1 pineapple (cut into small pieces)
2 bananas (sliced)
2 apples (cut into quarters)
75 grams sugar
150 millilitres sherry
1 swiss roll (sliced)
2 heaped tablespoons icing sugar
2 teaspoons blue food colouring
Method
Champion Ukraine Trifle is a community recipe submitted by Brybaz and has not been tested by Nigella.com so we are not able to answer questions regarding this recipe.
Put 100 ml sherry in pan and add sugar and heat until sugar is dissolved. Add pineapple, apple and bananas and heat until soft and add some Lemon juice to stop going brown. Leave to cool.
Cut swiss roll (poppy seed roll) into slices and put around bottom and sides of a trifle bowl or clear serving glass and add 4 tablespoons of the coulis then the fruit on top.
Make the custard and add the remaining lemon juice and mix well. Pour on top of the fruit and cool in fridge.
Heat the blueberries with the left over sherry until soft and leave to cool. Put in blender and switch on for a few seconds until well blended. (Add 1 teaspoon of food colouring to make it darker.)
Add 2 tablespoons of icing sugar to the cream and whip until firm peaks then add blueberries and mix well.
Add 1 teaspoon of blue food colouring to the yoghurt and mix well then fold into the blueberry cream. Pour on top of the custard and leave to set.
Other recipes you might like