More recipes
Recipe search
Succulent Chicken and South African Raisin Supper
A community recipe by

RaisinsSouthAfrica

Not tested or verified by Nigella.com
Print me
Introduction
South African raisins add a subtle sweetness to this easy chicken dish.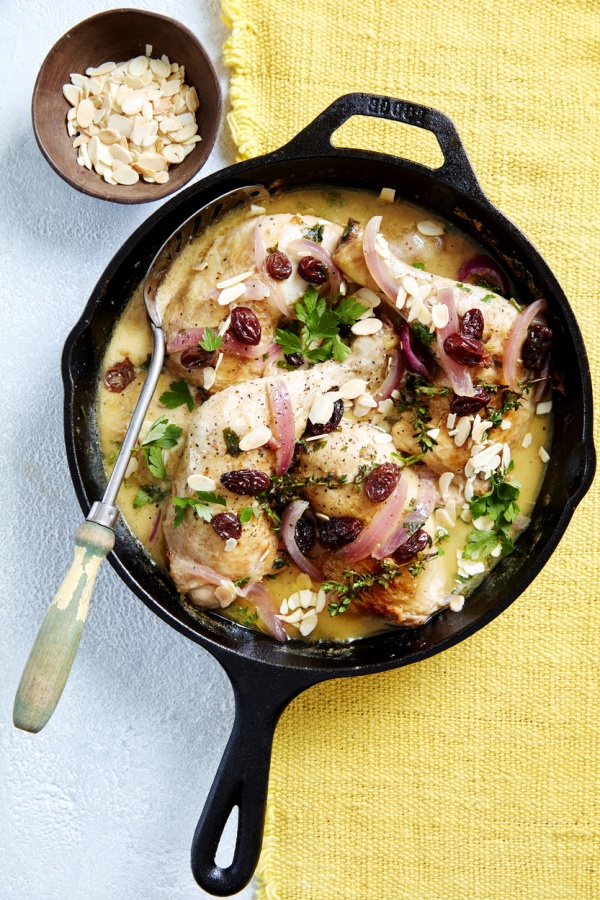 1 tablespoon vegetable oil
4 chicken legs or 8 chicken thighs
1 large red onion (sliced)
200 millilitres dry white wine
200 millilitres chicken stock
100 grams raisins
1 tablespoon fresh parsley (chopped)
2 sprigs thyme
2 gravy granules
100 millilitres double cream
30 grams ground almonds
fresh parsley to garnish
almonds toasted, to garnish
Method
Succulent Chicken and South African Raisin Supper is a community recipe submitted by RaisinsSouthAfrica and has not been tested by Nigella.com so we are not able to answer questions regarding this recipe.
Heat the vegetable oil in a flameproof casserole dish and add the chicken legs or thighs. Cook for 4-5 minutes, turning occasionally until browned on both sides (this is important for a good flavour).
Add the onion and cook for 2 minutes, then pour in the white wine and stock. Add the South African raisins, chopped parsley and thyme sprigs. Cover and cook on the hob over a low heat for 1 hour 15 minutes, or cook in the oven for the same time (preheated to 190°C, Fan Oven 170°C, Gas Mark 5).
Just before serving, stir in the chicken gravy granules to thicken, then add the double cream and ground almonds – reheating gently for a few moments. Serve, garnished with chopped parsley and toasted almonds.
Cook's tip: Serve with baked potatoes (cooked in the oven for 1 hour 15 minutes) or with creamy mash.
Other recipes you might like