Print me
Introduction
Lovely as a side dish, its tasty and quick to prepare. First time I made it and I enjoyed it.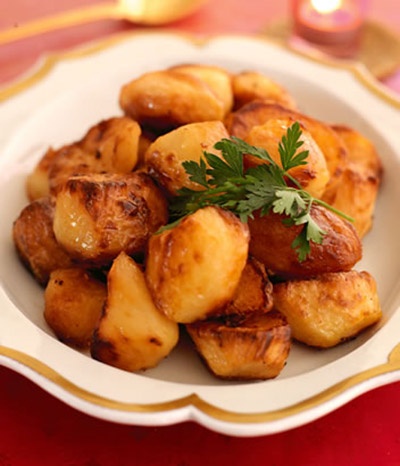 3 tablespoons mellow yellow (per pound of potatoes)
potato
fresh rosemary (optional)
salt
Method
Crispy Roast Potatoes is a community recipe submitted by Tammyxx and has not been tested by Nigella.com so we are not able to answer questions regarding this recipe.
Peel and cut the potatoes into even sizes Pour boiling water over them and salt Simmer for about 10 minutes so you are part cooking them.
Drain and put the lid back on the saucepan. Shake the saucepan vigorously to roughen the edges of the potatoes (this makes them floury and then gives them a crisper surface when roasted).
Meanwhile have the oil heating up in the roasting tin at 220ºC or in the top oven of an Aga. To ensure that the oil remains hot when adding the potatoes, place the roasting tin on the hotplate, whilst tossing the potatoes in the oil.
Ensure that their surfaces are all lightly coated before returning the tin to the oven to roast.
They will take about 45-55minutes to roast and will need turning over half way through cooking. Serve as soon as possible as roast potatoes don't retain their crispiness well when kept warm.
Additional Information
It is essential that the oil is very hot when the potatoes are added so that the outsides of the potatoes are seared on contact with the oil; giving them a wonderful crispy surface and preventing them becoming too greasy. They will take about 45-55minutes
Other recipes you might like