Print me
Introduction
My boyfriend loves cookies and cream cheesecake. So, for his birthday, I whipped up my version of a cheesecake (cream cheese icing) along with a delightful devils food cake.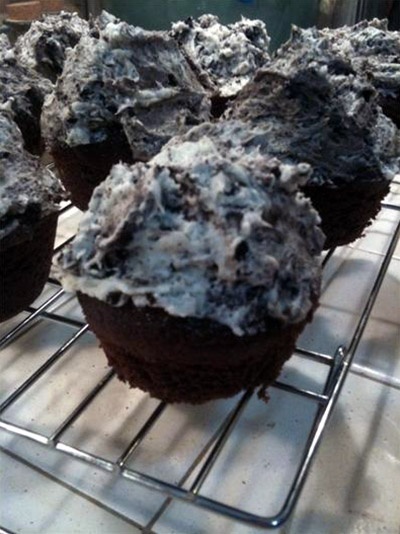 For the Icing
8 ounces cream cheese (at room temperature)
½ cup granulated sugar
8 ounces heavy cream
12 chocolate biscuits
For the Cupcake
1⅓ cups all-purpose flour
¼ teaspoon baking soda
2 teaspoons baking powder
¾ cup unsweetened cocoa powder
12½ teaspoons salt
3 tablespoons softened butter
1½ cups granulated sugar
2 medium eggs
¾ teaspoon vanilla extract
1 tablespoon instant coffee (brewed)
1 cup milk
Method
Cookies N Cream Cupcakes is a community recipe submitted by tart13 and has not been tested by Nigella.com so we are not able to answer questions regarding this recipe.
Preheat oven to 350. Line muffin pan with paper or foil liners.
Sift together flour, baking powder, baking soda & cocoa powder, & salt. In a large bowl, cream together butter and sugar. Add eggs 1 at a time.
Then stir in vanilla and coffee. Add flour mixture and milk alternately. Beat well
Then fill muffin tin 3/4 full. Bake for 15 to 17 min until you have a clean toothpick.
Icing
Whisk heavy cream into thick stiff peaks form. In another bowl, thoroughly blend cream cheese and sugar.
Next, fold in whipped cream into cream cheese mixture. Add cookie crumbs. Fold gently until blended.
Ice cooled cupcakes.
Other recipes you might like