More recipes
Recipe search
Trout, Salmon, Hake or King Prawn Curry
A community recipe by

abdulmismail

Not tested or verified by Nigella.com
Print me
Introduction
I can't get enough of seafood and for those who have an aversion, the method used masks the pungent scent associate with fish dishes.
This recipe can be made with Trout, Salmon, Hake or King Prawns. The base incredients and approach taken is exactly the same. The image used are two Salmon fillets.
Serve with Basmati rice.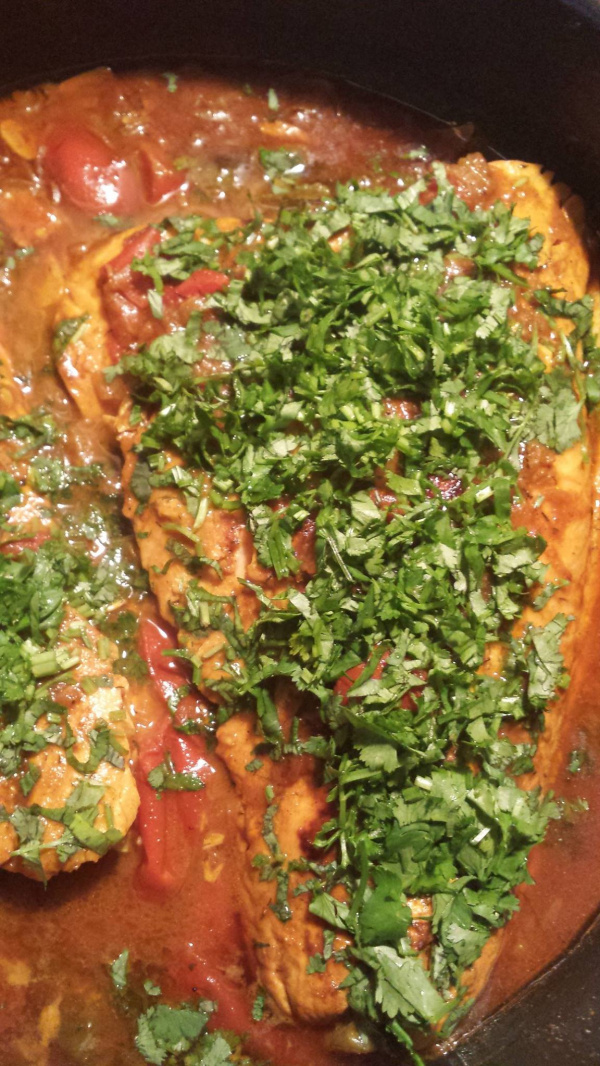 2 large salmon fillets
1 large onion (thinly sliced)
5 cloves garlic (sliced)
3 heaped tablespoons extra virgin olive oil (or ghee)
3 medium green chillies (stalk removed, and seared)
2 large tomatoes (each cut into six portions)
1½ teaspoons ground turmeric
1 teaspoon chilli powder
¾ teaspoon ground cumin
1 teaspoon dried dill
8 stalks fresh coriander (rinsed, squeezed then chopped)
2 large red peppers (sliced into long strips)
Please note that nigella.com is not able to accept responsibility for any substitutions that Ocado may need to make as a result of stock availability or otherwise. For any queries, head to ocado.com/customercare.
Feel free to use the "swap" feature and adjust brands and quantities as needed.
Method
Trout, Salmon, Hake or King Prawn Curry is a community recipe submitted by abdulmismail and has not been tested by Nigella.com so we are not able to answer questions regarding this recipe.
De‐scale the fish, wash, rub in some salt and leave aside to soak in water.

Rinse off the salt.
a) Option 1: Besides the green chillies and fresh coriander, add all of the ingredients together to make a paste and fold the spices in with the fish. Preheat a pan of oil /ghee and pour all of the ingredients into the dish. b) Option 2: Fry onions, garlic and chillies in oil/ghee on high heat until translucent. Reduce heat, tilt pan and add spices to oil to make a paste and then fold in to onions, garlic and chillies. Add 1/2 water to ensure spices don't burn. Cook on high heat for a few minutes.
Cover the pan and cook the fish on very high heat for 3 minutes but gently shake pan every 20 – 30 seconds to ensure fish doesn't stick to pan.
Flip the fish over to allow other side to sear.
Shake regularly to ensure the contents do not stick to the pan.
For Option 2: Add the green chillies and tomatoes to the dish.
Leave on high heat for another 3 minutes then reduce the heat and cook for an additional 30 – 40 minutes or longer, depending on your taste.
For Option 1: Add about one‐half a cup/mug of water to 'create' a sauce and ensure spices don't burn.
[As an additional option] 10 minutes in; add rinsed vegetables (bell peppers). The vegetables actually help to take away the strong spices and makes the fish more palatable.
Remove from heat and add the fresh, diced coriander leaves (but ensure that you first rinse and squeeze coriander to release scent).
For the King Prawn version, you can take one lemon grass, rinse and hit the head with a heavy object to crack it open then add it to the dish at the end together with a tin on coconut milk. Cook on high heat for 5 minutes then add the coriander. This will make a Thai curry which goes great with sticky rice or Udon noodles.
Additional Information
For a more authentic 'Bengali' flavour, use the following:
4 to 5 tablespoons of mustard oil instead of olive oil/ghee
Replacing the onion with 3 large (or 5 small) shallots provides an incredible scent
To inject a hint of tomatoes without an overpowering tomato flavour, gently place an entire vine of 10 cherry tomatoes in the centre of the dish instead of cutting 2 large tomatoes
As an alternative to red peppers, use potato wedges which need to be added at the same time as the fish. This soaks up the intense spices
Add 1 heaped teaspoon of paprika to the mix of spices
Other recipes you might like