Print me
Introduction
You only have to have one spoonful of this delicious vegetable rich sauce and you'll be hooked. A firm favourite with adults and kids alike. So simple to make it's scandalous, yet so gratifying to eat.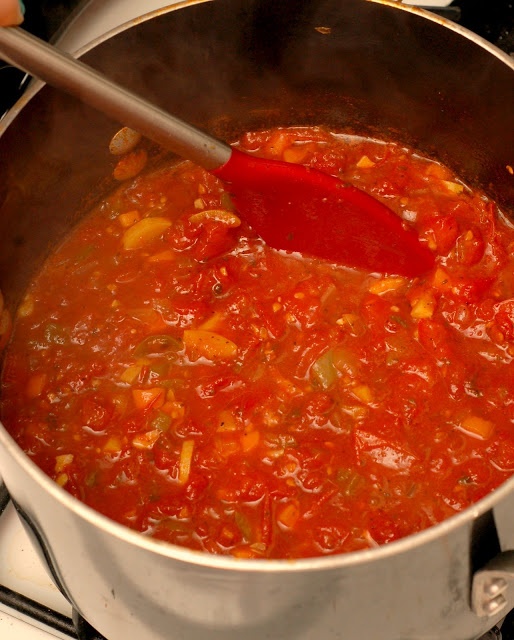 1 yellow onion sliced into thin half moons
2 garlic chopped finely
1 celery chopped finely
2 carrots grated finely
2 olive oil
1 courgette sliced finely into thin rounds
2 capsicum peppers Either Red, Yellow or Orange. Deseeded and cut in half and sliced into strips.
1 sweetcorn Drained, usually 165 grams
1 red onion sliced into thin half moons
300 chestnut mushrooms sliced
700 tomato passata
1 bay leaf
1 dried oregano
1 dried thyme
1 dried parsley
1 dried marjoram
2 tomato puree
1 lemon
1 lemon
1 fresh basil Leaves torn
2 black pepper
2 sea salt
1 fruit juice Red or Purple Grape Juice works best
1 knob of butter
Please note that nigella.com is not able to accept responsibility for any substitutions that Ocado may need to make as a result of stock availability or otherwise. For any queries, head to ocado.com/customercare.
Feel free to use the "swap" feature and adjust brands and quantities as needed.
Method
Vegetable pasta sauce is a community recipe submitted by Ingratitude and has not been tested by Nigella.com so we are not able to answer questions regarding this recipe.
Heat the olive oil and butter on a medium heat in a large saucepan. Add the thinly sliced yellow onion, finely chopped celery, grated carrot and chopped garlic. Stir til soft, until the onions are translucent and taking care not to let the mixture catch.
Add the dried oregano, parsley, marjoram, thyme, bay leaf and tomato puree. Add the thinly sliced courgette, sliced red onion, sliced capsicum peppers, sliced mushrooms and drained sweetcorn. Stir until slightly softened.
Add the tomato passata, torn basil, lemon juice and zest. Add the grape juice, one teaspoon at a time, tasting after each addition to get the correct level of sweetness of the sauce and simmer gently for around 40 minutes until the raw taste has been cooked out of the vegetables. At this point season with salt and pepper to taste.
Serve with pasta. Freezes well; use within 1 month.
Other recipes you might like