Print me
Introduction
This cake is based on an old popular cake recipe of Cabo Verde (Cape Verde) mostly prepared by my grand great-grand mother in late 9th century.
In Portuguese the name is "Bolo Vicente". I do not know why is called Vicente. Probably the name of the "inventor" or someone called Vicente which gave it the name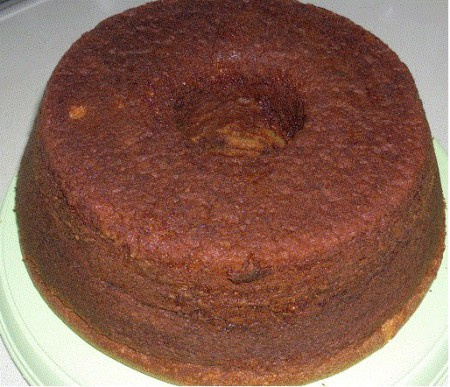 200 grams sugar
200 grams butter
300 grams flour
6 eggs (whole)
½ cup milk
1 cup tawny port
1 teaspoon vanilla essence
3 teaspoons baking powder
250 grams sugar to make burnt sugar
1 lemon (grated peel)
nutmeg grated
150 grams currants
3 tablespoons chopped walnuts
250 grams candied fruit assorted
Method
VICENTE CAKE is a community recipe submitted by zhem and has not been tested by Nigella.com so we are not able to answer questions regarding this recipe.
Beat the butter with the sugar until creamy.
Burn the sugar in a pan (low heat). Pour 1 cup of tea with water (barely filled) and stir. Let it cool.
In a bowl, mix the whole eggs one by one (beating well in the intervals of each egg) with the flour, the milk (gradually), the Port wine and the remaining ingredients. Final steps: add the burnt sugar and a small portion of sifted flour with yeast mixing well. Note: Candied fruits must be sprinkled with flour. Otherwise, they settle on the bottom of the cake.
Add the mix in a well-greased cake pan (20-25 cm) with butter or margarine.
Pre-heated oven at 220℃: Control the cooking with a long, thin stick, sticking in several parts of the cake. When the stick comes out dry, the cake is ready. Time approx: 15-20 minutes.
Other recipes you might like