More answers
Brining Spiced and Superjuicy Turkey
Asked by nigellanz. Answered on 19th December 2014
Full question
Hi all, I have never tried brining before so just wondered can the Spiced And Superjuicy Turkey be left to brine in the fridge? Living in New Zealand it is summer now and the weather is hot in December so would not think it was safe to brine outdoors. Is the brining time the same if it is done in the fridge?
I am brining my turkey for the first time this year, using Nigella's recipe. My turkey is bigger than the one in the recipe (it is 8.30 kg). When I put it in the container the liquid did not cover the bird. Nigella had said to top up with water until covered but I ended up adding an extra 6 litres. I then thought I had better add more salt so added an additional 125 g (double the water & double the salt). Now I am wondering if that will make it too salty? Also when I am ready to cook do I rinse the bird in fresh water and dry it before cooking or should I just dry it?
Our answer
Nigella's Spiced And Superjuicy Roast Turkey (from Christmas and on the Nigella website) involves brining the turkey for between 12 and 48 hours. As the weather is normally cold in the northeren hemisphere in December, Nigella suggests leaving the turkey in its brine in by an open window or securely covered outside (or a cold garage would also be good). However if you are in a hot climate then you do need to keep the turkey chilled. Whether in or out of the fridge, the brining time is the same.
Obviously the turkey is in quite a large pan or bucket so you need to make sure that this will fit in your fridge comfortably. You could brine the turkey the night before Christmas Eve, remove it from the brine and put it in a dish, cover it tightly with clingfilm, then refrigerate it until ready to cook on Christmas Day. This may help a bit if you need to free up some space in your fridge for Christmas Day. As with all raw meats and poultry, store the turkey (in or out of its brine) on the bottom shelf of the fridge, make sure it is covered tightly and that it doesn't come into contact with other foods.
If you have kept the salt concentration in the brine the same as in the original recipe (125g table salt or 250g sea salt flakes per 6 litres water) then the brine is fine and will not be too salty. A larger turkey will probably need the longer end of the timeframe given for brining (about 2 days). Nigella suggets in the recipe that you remove the turkey from the brine 1-2 hours before you want to put it in the oven, and pat it dry with paper towels.
Recipes you might like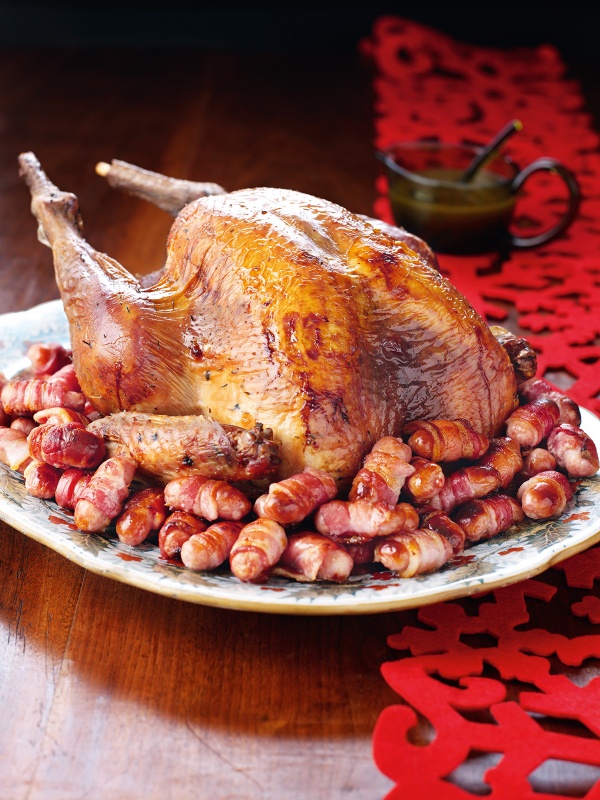 Spiced and Superjuicy Roast Turkey