Full question
Hello! I am wondering if I can use skinless boneless chicken thighs for the Garlic And Lemon Chicken. Should I adjust the cooking time or not remove the foil as there is no skin?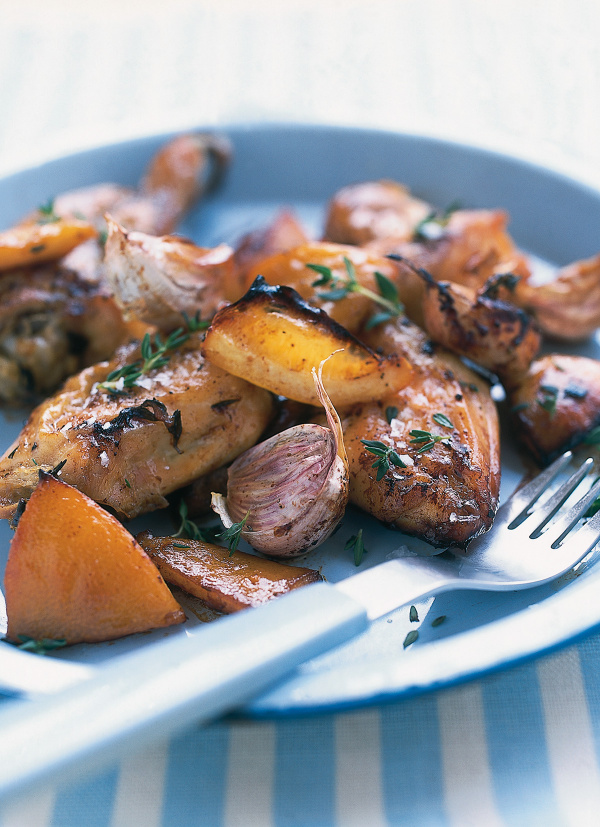 Slow Roasted Garlic and Lemon Chicken
Our answer
Nigella's Slow Roasted Garlic And Lemon Chicken (from NIGELLA SUMMER) is usually made with skin on and bone in chicken pieces (either a whole jointed chicken or thighs). Meat is usually more succulent when cooked on the bone and the skin becomes deliciously crisp and brown. It is possible to use skinless, boneless thighs as the meat is moister than chicken breasts, however you may need to slightly adjust the cooking time and also method as in the last stage, where the meat is cooked at a high heat, the chicken could dry out a little.
The chicken thighs are likely to take 1 1/4 to 1 1/2 hours to cook initially. Check that the chicken is cooked through - the juices run clear when you pierce the thickest thigh with a sharp knife. Then remove the chicken thighs from the roasting tin and put on a plate, cover with foil and leave in a warm place. Increase the oven temperature and roast the lemons and garlic until the lemons start to scorch slightly. As there is no chicken in the tin the roasting time will be much shorter, so we suggest checking the tin regularly after the first 10 minutes, so that the garlic and lemons don't burn. Add the cooked chicken thighs back to the tin before serving.