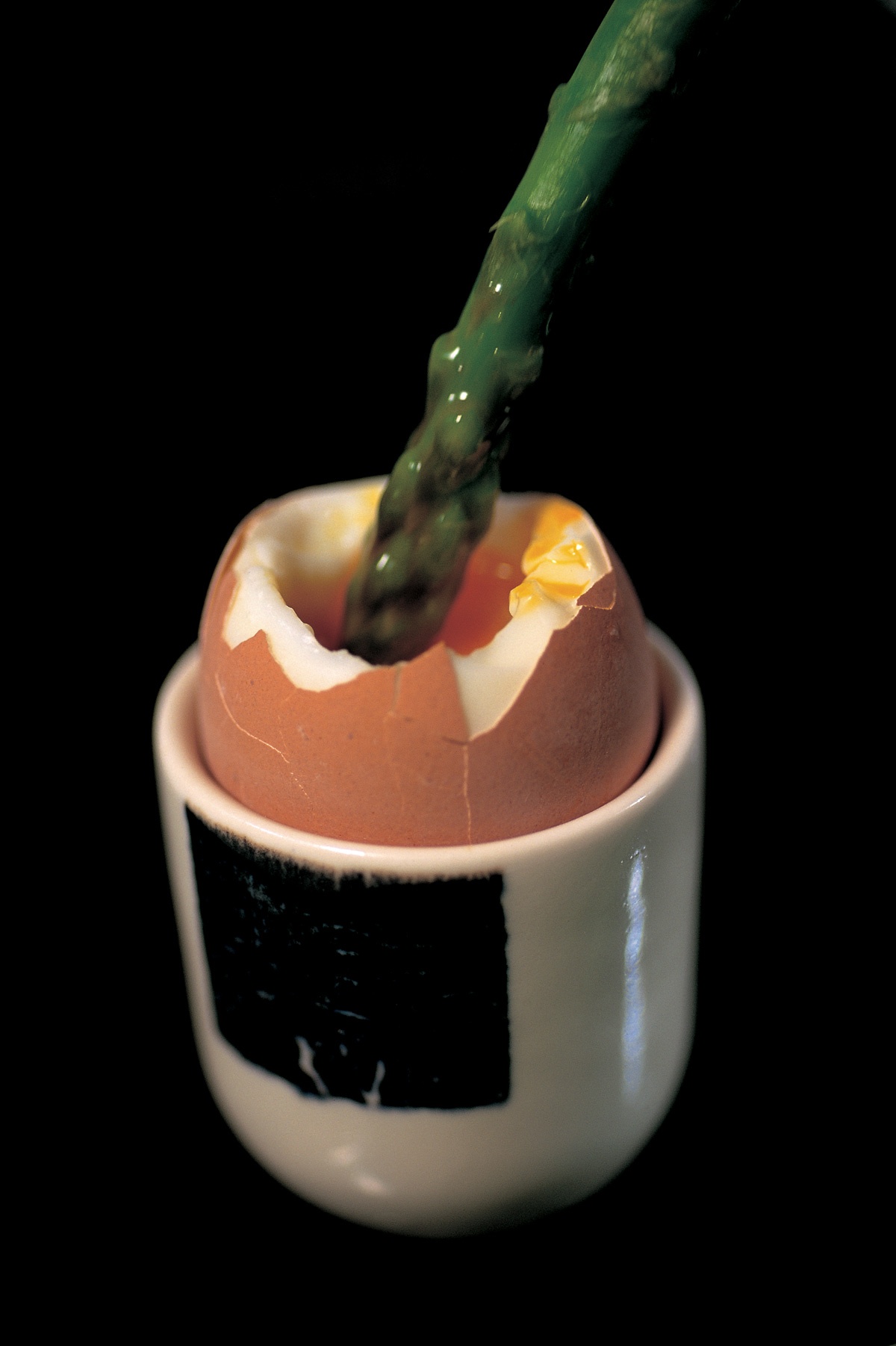 This time of year is bittersweet for the greedy English cook: the forced rhubarb is gone, and I go into the pinkest mourning; but cheer arrives in the form of asparagus, bringing with it green hope. I relish its mineral, earthy elegance, and celebrate it as fully as I can. And what this means, generally, is leaving it well alone. I know that there is a seasonal sprouting of asparagus risotto, asparagus soup, asparagus tart, but for me asparagus is - on the whole - best enjoyed when left alone. I want to eat it as simply as possible (and as often as possible) and the way I enjoy this the most is by roasting it. In How To Eat, I recommended tossing it in a little olive oil, and roasting it in a blisteringly hot oven for 10-15 minutes depending on how thin or thick the spears are, then sprinkling with sea salt flakes. Now, what I tend to do is this: snap the woody ends off the spears where they break naturally, then lie them on a roasting tin, toss them gently in finely grated lemon zest and Maldon salt then roast them for 10-15 minutes in a 220°C oven (200°C Fan/ 425°F) and the minute they come out of the oven, I pour over the juice of the lemon I've zested; I tend to use 1 lemon per 2 bunches of asparagus, so half a lemon if I'm confined to one bunch. This is the deepest joy. But it is not the only source of asparagus happiness in my house.
Another essential way of eating asparagus for me is to eat it dipped into a soft boiled egg or two. Or, instead of boiled eggs, make fried eggs, but be sure to keep the yolk golden and soft. You might also consider, in either case, having some Parma ham, prosciutto di San Daniele or Westphalian ham, all cut thinly, to wrap around the asparagus stems as you dip, as a glorious edible napkin.
Of course, there is nothing wrong with any of the classic ways to eat asparagus. If you want to eat your asparagus with hollandaise, I wouldn't begin to argue you out of it, but I prefer a simpler approach: just melted butter and lemon. And I also recommend miso butter: slowly melt unsalted butter in a teeny-tiny pan, then when it's almost completely melted, patiently whisk in an equal amount of sweet white miso. Once it's almost completely absorbed, whisk gently on low heat until properly amalgamated, though it will still separate a little on standing. In the picture you see, I used two bunches (about 450g altogether, roasted with just a little oil and sprinkle of Maldon) of asparagus and 45g each of butter and miso.
I never tire of eating asparagus simply and plainly, and as a feast unto itself, but there are times when I can ungrudgingly use asparagus as one factor in a larger dish. For one thing, it does make this luxurious ingredient go further. In fact, my first foray into asparagus this year (I had only a bunch to play with and 4 people to feed) involved roasting asparagus, and mixing it with 3 heads of red chicory, quartered lengthways, and roasted with a splash of olive oil and dry white vermouth for 30 minutes in the same hot oven. Once asparagus and chicory were united, I sprinkled them with some lemon thyme. And then, of course, there is my Asparagus, Radish and New Potato Salad: a total joy, and a true beauty. Well, you know what I am like about pink and green!