Since Petrina Tinslay who is taking the photographs for my new book is an Aussie, I am more aware than I might usually be that the 25th is Anzac Day, which commemorates the contribution of the members of the Australian and New Zealand Army Corps (Anzac).
Petrina told me that the done thing is not to make Anzac Biscuits but, rather, Lamingtons and so I am offering up (with thanks) a recipe from a book I'm very fond of and have mentioned before, The Monday Morning Cooking Club. The recipe in question is Railea Don's and is as follows. Forgive my bad picture of their good picture, but I left it too late - given the time difference - to ask them for a jpeg of it!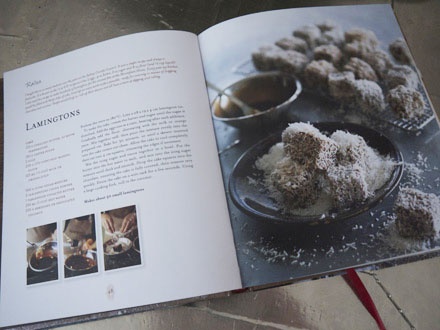 Railea's Lamingtons
Serves about 30 small Lamingtons
Ingredients:
125g unsalted butter, at room temperature 185g caster sugar 2 eggs 250g (1 ²/3 cups) self-raising flour 125ml (½ cup) milk or orange juice
500g icing sugar mixture 3 tablespoons cocoa powder 1 tablespoon unsalted butter 250ml (1 cup) hot water 250g shredded or desiccated coconut
Method:
Preheat the oven to 180°C. Line a 28 x 19 x 4 cm lamington tin. To make the cake, cream the butter and sugar until the sugar is dissolved. Add the eggs one at a time, beating after each addition. Gradually add the flour, alternating with the milk or orange juice. Mix together well, then pour the mixture evenly into the prepared tin. Bake for 30 minutes, or until a skewer inserted into the cake comes out clean.
Allow the cake to cool completely, then cut into 4cm squares, trimming the edges if necessary.
Mix the icing sugar and cocoa together in a bowl. Put the butter into the hot water to melt, and mix into the icing sugar mixture until thick and smooth. Drop the cake squares into the chocolate, ensuring the cake is fully covered, then remove very quickly. Dran the cake on a wire rack for a few seconds. Using a large cooking fork, roll in the coconut.