I was so inspired by my Brazil trip, that I knew it was only a matter of time before I tried my hand at some local delicacies. I've been back a week now, and have been impatient to have a go at coxinha. For those of you who are not Brazilian, these are best thought of as pear-shaped chicken croquette (coxinha means 'little thigh', which is strictly speaking what they are supposed to evoke) which I ate first in Bella Paulista in Sao Paulo, and then couldn't stop.
I didn't look up any actual recipes, but rather asked my Brazilian friend (and best cook I know) Helio Fenerich to come over and play with me in my kitchen. So, this is how we proceeded. But before I tell you, I just want to say that I am sure there are many other recipes, and all of you who were born to them have your own way of making them; these simply are Helio's, and now mine!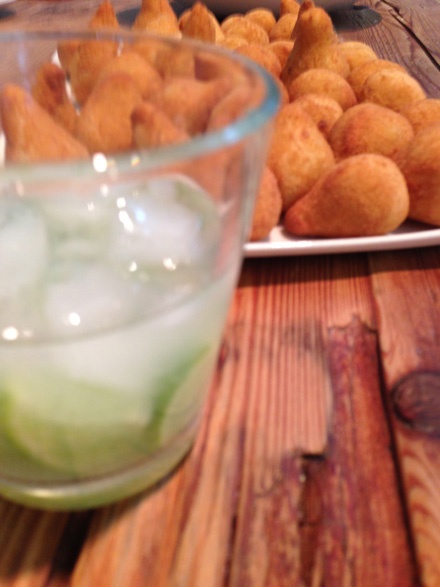 In order to follow the recipe, click here, but first I must warn you that we made little baby coxinhas, as these are easier to fashion and fry, I find, as well as being infinitely cuter! They are perfect canapé size, which is why I present them here accompanied by the classic Brazilian cocktail, a caipirinha.