As you may well have deduced from my Twitter account and Facebook page, I have recently got back from a book tour in Brazil. It's always exciting to have a book out (this was Kitchen, or Na Cozinha Com Nigella, as it is in Portuguese) and I have been desperate to go to Brazil for as long as I can remember, so this was a real thrill. I can truly say it was an uplifting time, and although one of the difficulties of being on book tour is that I tend to work through lunch and supper time (it's an ironic cruelty) I did manage to eat as much as I could. Research, you understand!
Below are some of the culinary highlights of my visit: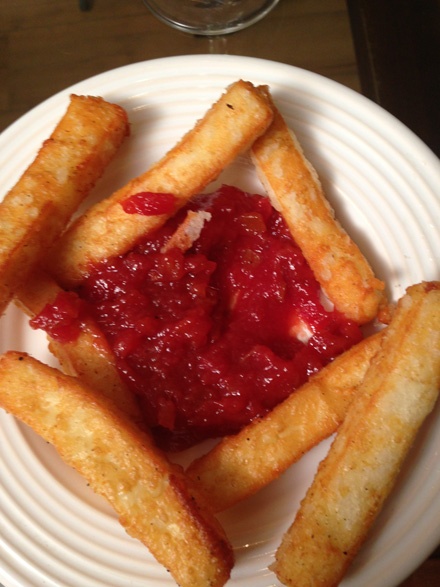 This picture may look like it's of chips and tomato ketchup, but it is in fact fried cheese and guava jam, a combination I ate like this, and with fresh sharp cheese, simply cut with some thick-set guava paste. Both ways were heaven. This combo is sometimes known in Brazil as Romeo and Juliet.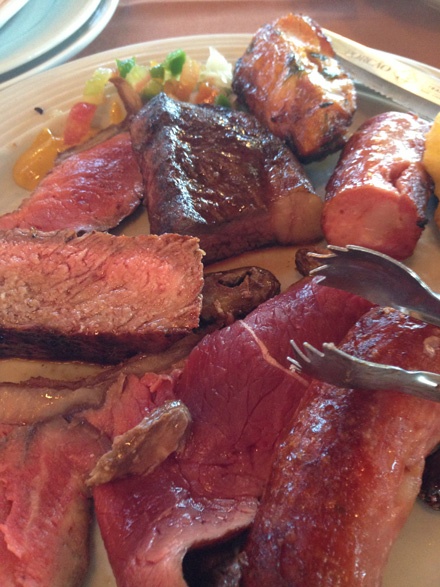 Obviously, I had to go to a Churrascaria while in Brazil. Although this is often translated as Brazilian Barbecue, think more all-you-can-eat carvery with exceptional meat, including a cut of beef - Picanya - that is found only in Brazil and is well worth the 11-hour flight to sample it! I never travel without my Colman's mustard, and I'm glad to say it found great favour with the locals, too.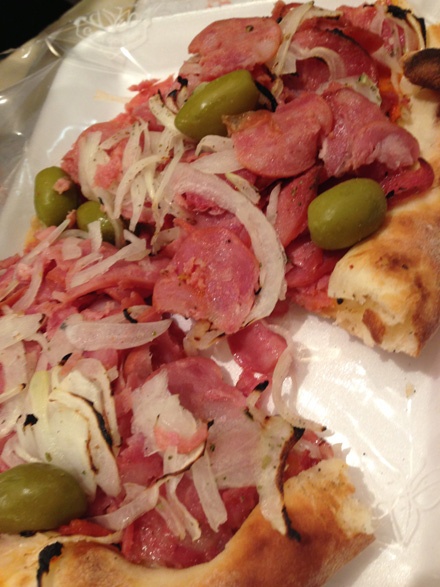 I'd been told in advance about the meat, but no one had told me about the utter fabulousness of Brazilian pizza, and in particular about the pizza calabresa to be found in São Paulo: this is a cheeseless confection (outside of São Paulo, I'm told, cheese is added) with sweet, sweet onions, and intensely salty sausage, cut wafer-thin and generously piled up, dotted with the occasional olive. My only regret is that I didn't eat more of it.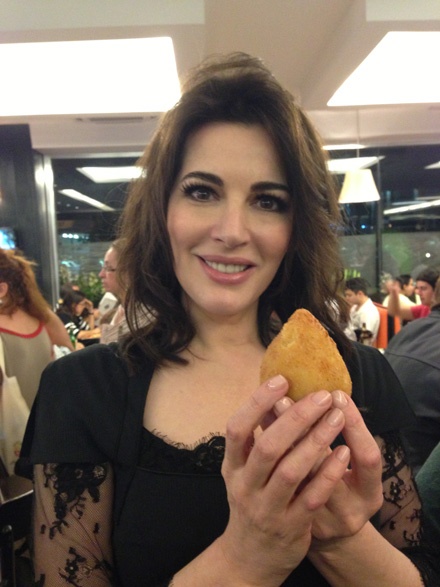 I tweeted my enthusiasm for coxinha while I was in São Paulo, but need to repeat it again. This is a deep fried chicken fritter which comes in a kind of a pear shape, which I rather feel could be my destiny were I to eat as many as I longed to. But I definitely am going to try my hand at a version now I'm back in my own kitchen.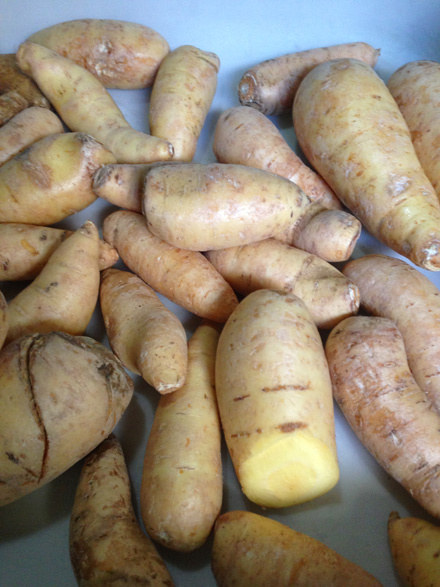 Equally, I am desperate to source these batate baroa, or mandioquinha - which is like a densely woven, golden-fleshed, sweet-tasting potato, although I am not sure if it actually is a spud: some call it a mixture of celery and carrot; but whatever it is, I want it and will not rest until I have tracked it down in the UK, even if I have to grow it myself. I will keep you posted, of course.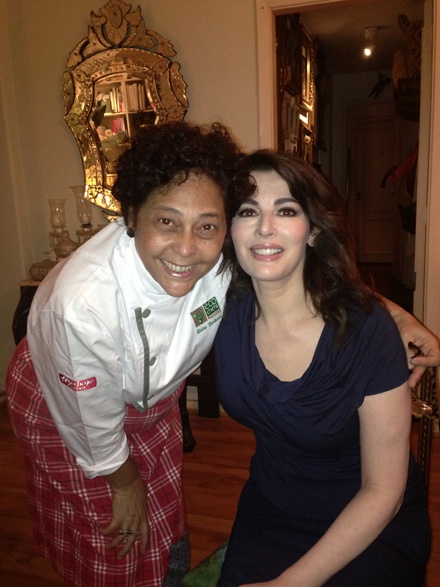 One of my great excitements was meeting Katia Barbosa. She not only is a wonderful person, but a great chef, and I adored her and her restaurant Aconchego Carioca (I went to the one in Rio, but there is a branch in São Paulo, and I wish there were one in London!), and felt inspired: good energy, great food.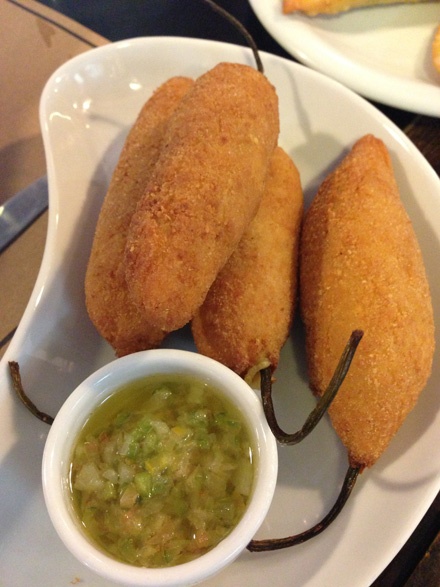 These stuffed then deep-fried peppers - called Deixa arder, or let it burn - are a house speciality and a particular favourite of mine. And the deep frying here is so perfect, nothing tastes as if it has even come into contact with fat, but merely kissed by extreme, flavour-sealing, heat.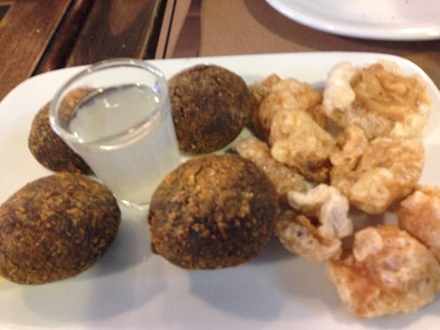 Katia Barbosa invented the Bolinho de feijoada some 10 years ago, and is now copied all over the place there, but hers are the original and incredible they are, too. Feijoada is the very traditional dish of black beans and as many parts of the pig as possible, and this is a cocktail-accompanying fritter based on these time-honoured ingredients, here served with some cachaça, local sugarcane liqueur, and pork scratchings.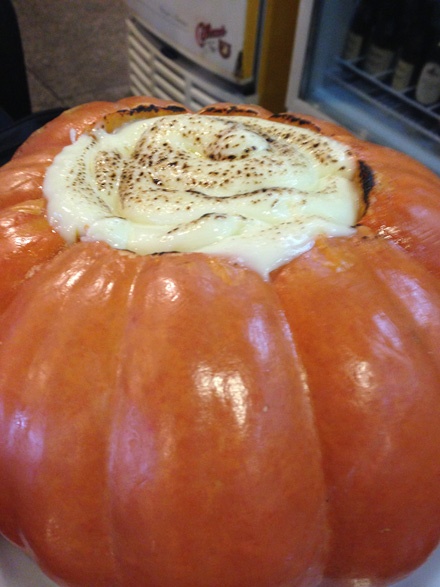 This splendid dish is Camarão na moranga - literally shrimp in a pumpkin - and this what it was: the shrimp are so juicy and fresh and sweet, and topped with creamy fresh cheese and with the soft pumpkin flesh as you scoop it out this is a dream of deliciousness. Again, something for me to work on, or rather, play with in my own kitchen.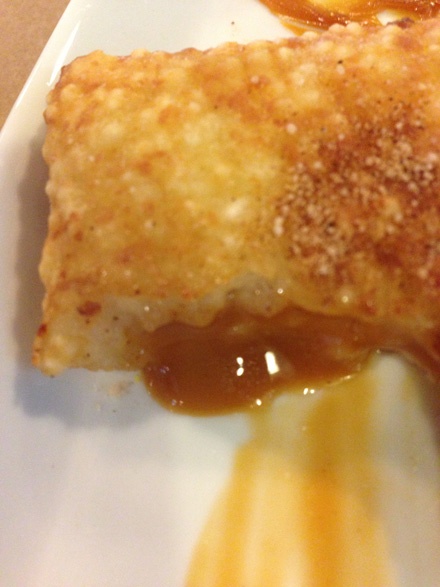 But what really blew me away was the almofadinha de tapioca come doce de leite - soft, deep fried 'pillows' of tapioca dough filled with caramel. Perfection, perfection, perfection, but also (I'm afraid) addiction, addiction, addiction. I'd be tempted to fly over just for these, but instead I'm hoping I can lure Katia Barbossa here. Watch this space!