I am working on my book, of course I am - and indeed many of you will have been witnessing evidence in the form of snaps on Twitter - but I have just allowed myself to be majorly distracted by a bit of prop-sortage for the upcoming shoot.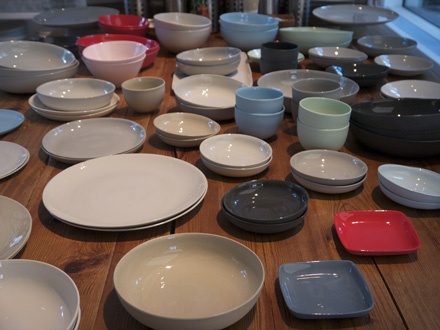 I've been collecting Mud Australia's gorgeously hued porcelain ever since I found a blush pink bowl at the Saturday market in Paddington when I was in Sydney for the first time, when I was actually hot off the plane! I bought some more when I was in Melbourne (and again in Sydney) and have been surveying a fresh crop in all its loveliness in order to remind myself of what I've got (an embarrassingly extravagant amount) and write an inventory.
Of course, the problem now is that I have completely covered my kitchen table, and no longer feel I have the energy or interest for inventory-compilation. And I can't have anything - even such beautiful china - getting in the way of sitting down at the table to eat!