Well, I did promise on Twitter that today I'd write up the recipe, such as it is, for my lunch of prawns and squid in a chilli-prawn broth the other day, and I do like to be a person of my word, so here goes.
It was going to be just a version of one of my regular stir fry treatments - chilli, ginger, sake and so on - but when the prawns came from the fishmonger, they still were in there shells, so I thought I'd make a little broth out of them. It helped that I had quite a bit of work on, so shelling the prawns gave me a fantastic excuse to escape from my desk for a bit.
What I had, extravagantly, to work with was 750g of squid, and 20 raw unpeeled medium prawns. I put the heads and shells of the prawns in a saucepan with 4 spring onions (unchopped), 3 half-centimetre pieces of fresh ginger, 1 red chilli, cut into 3 (seeds still in) and the tied stalks from a bunch of dill. Over this I poured 50ml Sake and 6 cups/ 1 and a half litres cold water. I brought the pan to a boil, put the lid on, turned the heat to low and left it to simmer thus covered for an hour.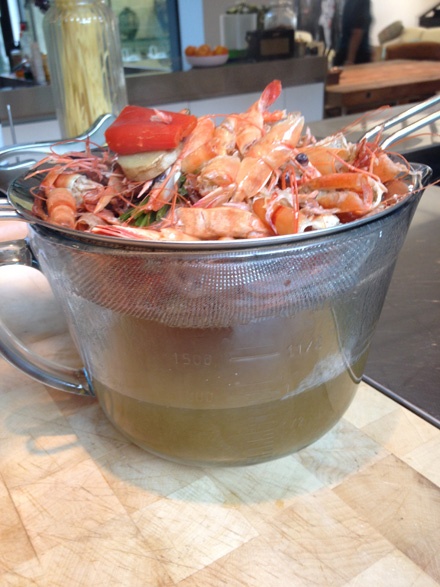 And now for the stir-frying: I put some garlic-infused oil into my wok, added some crushed chilli (which was not needed on the voyage since the broth had fire a-plenty) then tumbled in the peeled prawns and the squid, cut into rings, and stirred these over heat for a minute or so before adding a cupful (250ml) of the broth and slamming on a lid and letting the squid and prawns cook gently and tenderly.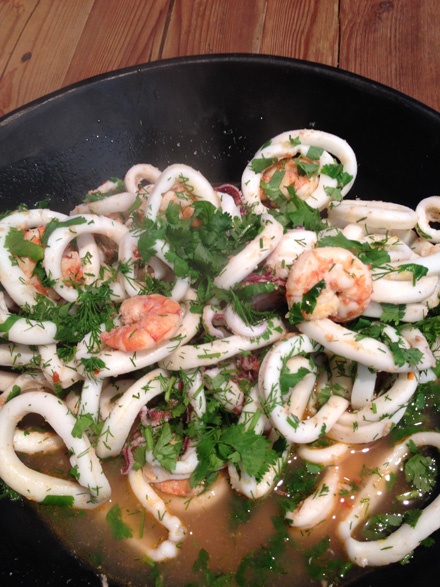 Once cooked, I threw over some finely chopped dill and coriander, and six of us wolfed this down - though it would have fed 8 easily. And I have now frozen the remaining chilli-prawn broth, as I decide what to do with it.
Risotto? Noodle soup? A unfamiliarly fiery bisque? I like the contemplation of food quite as much as its consumption…