I love cooking a one-pot meal, especially when I'm tired and frazzled - which is pretty often at this time of year! The picture below may not show it in its best light - there is a reason I use professional photographers in my books, after all - but believe me, this simple supper of chicken and rice is a real weekday - anyday - hit.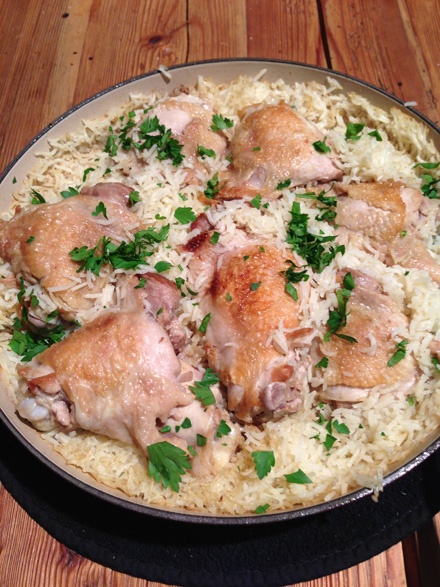 All I did is brown eight chicken thigh portions in garlic oil in a wide fairly shallow pan. I then removed them to a plate briefly while I stirred 500g of basmati rice in the garlicky chickeny fat, adding a teaspoon of ground cumin before pouring in a litre of hot chicken stock, stirred well before letting it come to a bubble, which is pretty much instantly. I then arranged the chicken pieces, skinside up, on the rice, clamped on a lid and - with the heat low - let it cook for about 25 minutes, by which time my rice had absorbed all the flavoursome liquid and the chicken pieces were cooked through.
Of course, you could use chicken breast portions (in which case 20 mins should be enough) but I do rather feel you're paying twice as much for half the flavour. I like this as it is - with just a little freshly chopped parsley to serve - and it keeps me and three teenagers very happy indeed.
And I've got some leftovers for a bit of stir-fried rice tomorrow - perfect!