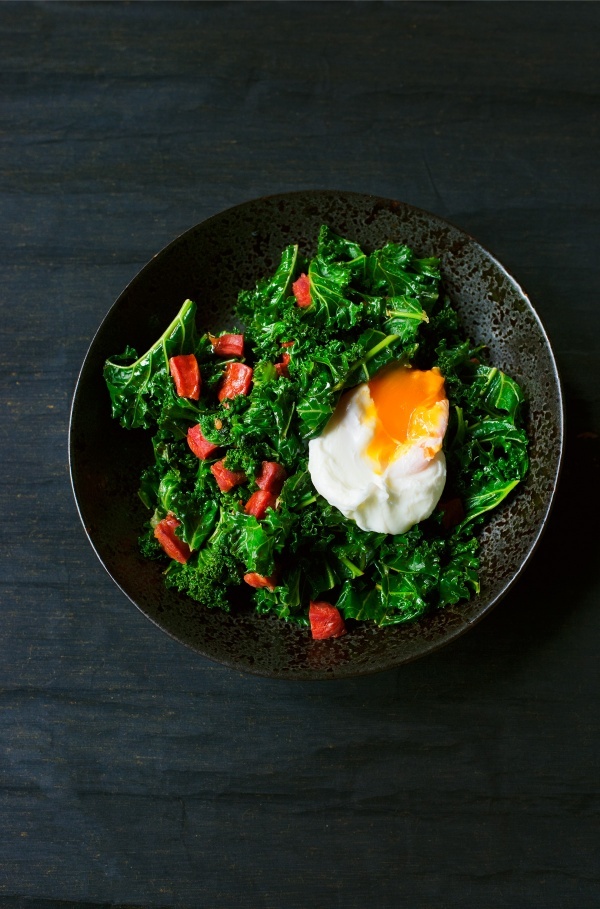 Recently, on Twitter, someone very gratifyingly told me that my poached egg method had changed her life. I understand: it changed mine, too.
It may sound overstated to say as much, but the thing is, I'd always been frightened of egg-poaching. I felt a little ashamed, and also knew that avoiding things you're frightened of merely makes that fear grow. And that's no way to live. So I overcame my fear, found a method that works for me (and if you have a method you're happy with, I advise you to stick with it) and although I have written about it before, felt I may as well present it here, now, for those who are still looking for a way that works.
Initially, I practiced a counsel of perfection, straining the egg through a fine tea strainer to remove the liquid part of the egg-white, which is the bit that turns to fluff in the saucepan. I now, as I make my breakfast everyday, adopt a less finickity procedure (although if I want to be absolutely sure for special occasions, I might well reach for the tea strainer). You need the eggs to be as fresh as possible, as the whites get more watery the older they are. So: crack a fridge-cold egg (it holds its shape better if it's cold) into a cup and add a teaspoon of vinegar or lemon juice, and let it stand while a small pan of water comes to a boil. Turn off the heat, though leave the pan where it is, and slowly pour the egg in from the cup, leaving the watery liquid, which will have collected in the bottom of the cup, behind. (Should you be poaching more than one egg, you might want to leave the water on a very, very low heat, but don't let any bubbles come to the surface.) If you want, you can encourage the edges of the white to curl up over the yolk with a slotted spoon, though you don't have to. Leave it in the water for four to five minutes depending on the size of the egg, and remove with your slotted spoon, letting any water clinging to it drop off before transferring quaveringly to your buttered toast or other destination of choice. I very much recommend these two recipes as landing points for poached eggs: first the absolute revelation that is Çılbır aka Turkish Eggs or an old favourite, still very much en vogue in my house, Poached Egg with Kale and Chorizo.