Print me
Introduction
Think of the best baked apples you've ever had. All that lovely, slightly spicy, dried fruit packed inside an apple that is roasted so that its flesh is almost bursting out of its seams. Then add another flavour dimension that takes that baked apple up a notch or dozen. The extra dimension is balsamic vinegar. Its mellow acidity brings out the best in the sweet fruit. These are gorgeous with ice cream, cream or yoghurt.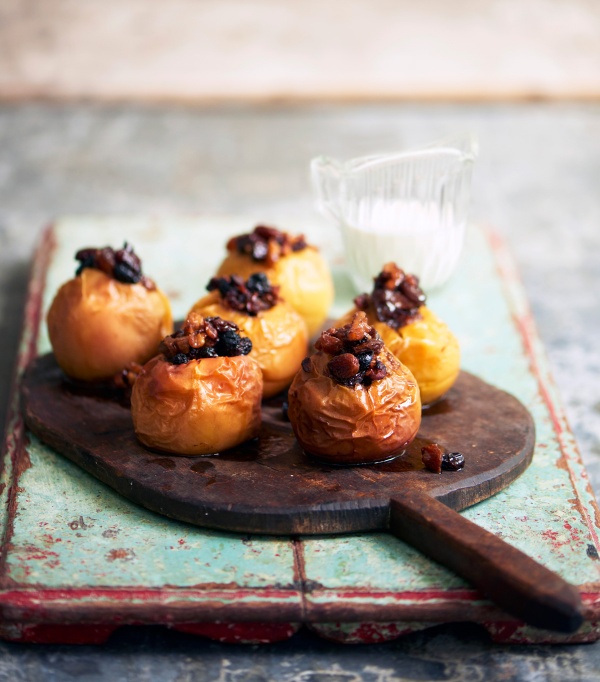 20 grams walnut halves
80 grams raisins
½ teaspoon ground cinnamon
grated zest of 1 lemon
6 tablespoons balsamic vinegar
6 medium apples
1 small knob of butter
Method
Baked Apples with Balsamic is a guest recipe by Angela Clutton so we are not able to answer questions regarding this recipe
Crush the walnuts in your hands, then combine them in a bowl with the raisins, cinnamon, lemon zest and balsamic. Set aside for 30 minutes, or as long as it takes to prepare the apples.
Preheat the oven to 180°C/160°C Fan/Gas Mark 4. Use an apple corer to take the core out of the middle of the whole apples. Keep the apples whole and cut a line around the equator of each to pierce the skin. Grease a shallow baking dish with most of the butter and sit the apples in it. Drain the dried fruit mix, being sure to retain all the liquid that comes away. Fill each apple cavity with the dried fruit mix and dot a little butter over the top of each filled apple. Bake for 30 minutes, until the apples are tender.
Allow the apples to cool a little, then lift them onto a serving plate (or into individual bowls).
Add any juices that have seeped into the baking dish to the reserved vinegar marinade and pour all of that into a small saucepan. Simmer over a medium heat to reduce to a syrup consistency, then drizzle over the apples before serving.
Other recipes you might like